Design Inspirations, Vol. 3
In this blog series, our design team is on a quest to curate designs from all corners of the web that stand out as being innovative, interesting, and overall inspirational.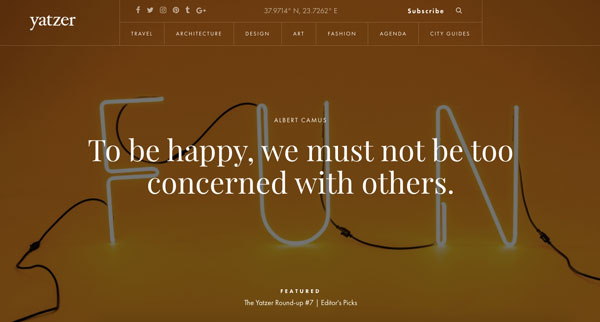 Yatzer: Senior Web Designer Ashley Cyborski's pick for November.
Yatzer is an example of beautiful typography. The design system is particularly strong as it manages to maintain consistency throughout the site while still providing individual details to each unique piece of content. From pulling colors out of images to using a subtle framing hover state, the attention to detail is delightful for a user. The typography also makes long form text easy to read on any screen.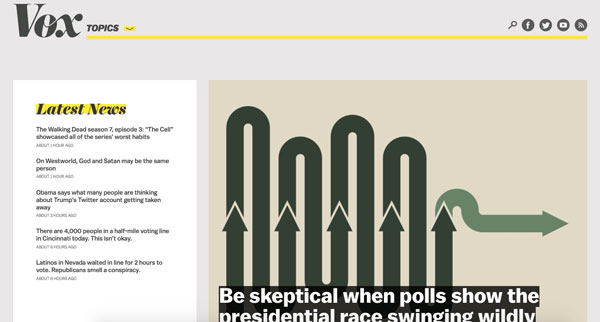 Vox: Web Designer Miche Li's pick for November.
Vox breaks the mold of a traditional news website by using bright colors, a contemporary gridded layout, and a combination of modern didone fonts with sans serif fonts. However, despite all of these nontraditional design choices, there's a clear concern for meeting accessibility standards and creating a website that is a joy to browse. If you compare Vox to the NY Times, for example, you will see that font sizes and line heights are far more generous on Vox, making its articles more readable.
The use of bright yellow, while liberal, is never applied to an element that is integral to the understanding of the website. The designers at Vox were able to apply a color that can be hard on the eyes in such a way that it never detracts for the user's ability to interact with the site. Furthermore, the typography is really beautiful and well-considered. It's easy to distinguish headings, subheadings, bylines, blockquotes, and other types of content.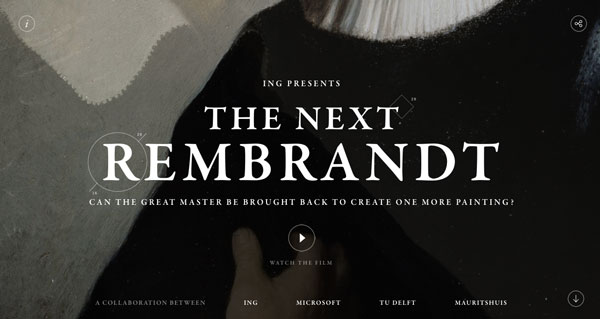 The Next Rembrandt: Senior Web Designer Carl Martens' pick for November.
This site is all about telling a story. The difficult challenge is how to capture the process in an effective and inspirational way. By creating subtle movements and snappy transitions, the site takes the user on a journey of how they accomplished their goal while making it fun and enjoyable. What's also amazing is how they created a mobile experience that is equally engaging.
Stay connected with the latest news on web strategy, design, and development.
Let's work together.
Have an exceptional idea? Let's talk and see how we can help.