Design Systems: Communication in a Crisis
Design systems help you COPE in a crisis: Create Once, Publish Everywhere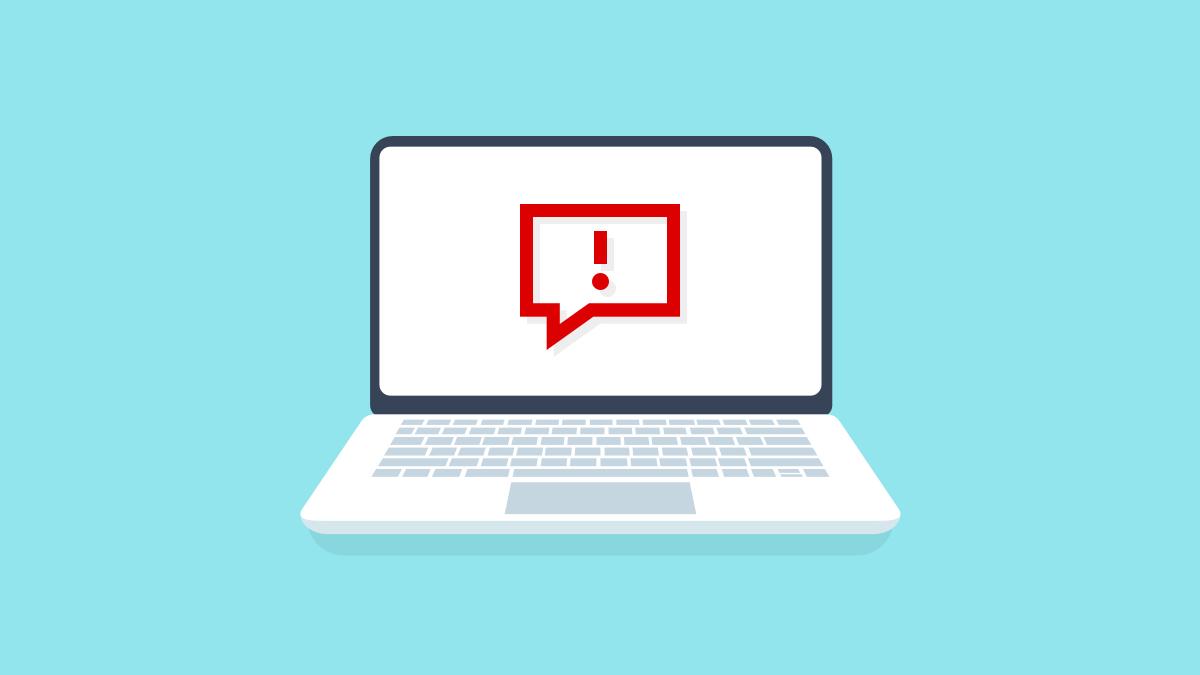 Life comes at you fast, and when a crisis strikes institutions need to be able to rapidly update their digital channels to serve up relevant, necessary information for their audiences. For a website, a marketer's best friend is a design system. Design systems help marketing teams COPE: Create Once, Publish Everywhere. 
A design system is a set of elements, components and templates that website owners can use to edit existing pages or construct new ones. Because a design system is modular, it's simple for a content admin to add a new feature to the homepage - no need to build an entirely new page. Our design systems also typically include a few page templates, which makes it easy to rapidly spin up a new landing page. And of course, our design systems include a site-wide alert banner.
Palantir has built more than 40 design systems, and here are some stellar examples showing how those systems are helping three of our clients COPE with COVID-19:
Homepage COVID-19 Response Strategy
HonorHealth
HonorHealth is a community health system serving Phoenix, AZ. Their top priority is to get information on COVID-19 out to worried people. The HonorHealth team mobilized to completely rethink their homepage content, and as a result visitors can now rapidly:
Start a COVID-19 symptom check
Chat with a medical expert about symptoms
Learn when to seek COVID-19 care
Find community and services for COVID-19 support
Donate supplies to caregivers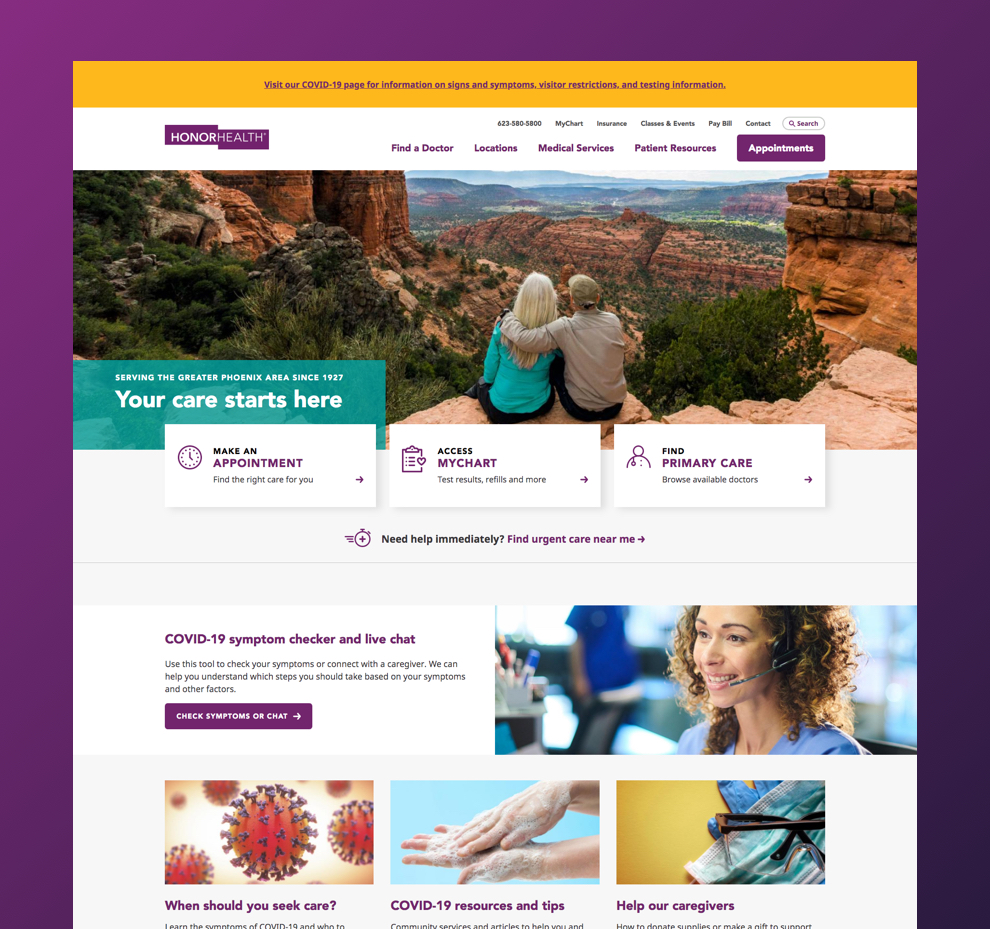 Landing Page Creation 
Wisconsin Department of Employee Trust Funds (ETF)
ETF is a state agency that administers a whole host of benefits for government employees and retirees, including health insurance and income continuation insurance. In response to the COVID-19 outbreak their website team has created a primary landing page for COVID-19 with links out to topic-specific landing pages for health benefits and retirement benefits, as well as department news. These new landing pages are helping ETF's different audiences find specific, relevant information to help them navigate the crisis.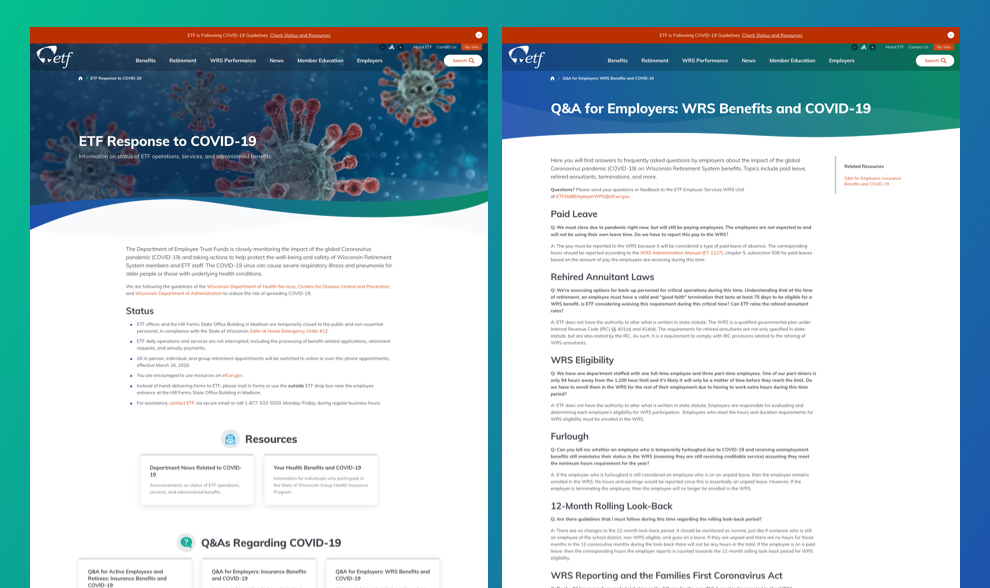 Site-Wide Alerts 
Northcentral Technical College
The site-wide alert banner is the "old reliable" of design system tools for high priority communications. Our client Northcentral Technical College is using their alert to direct visitors to a COVID-19 landing page, which means they can maintain the strategic focus of the homepage and other pages while still directing visitors to the most up to date information.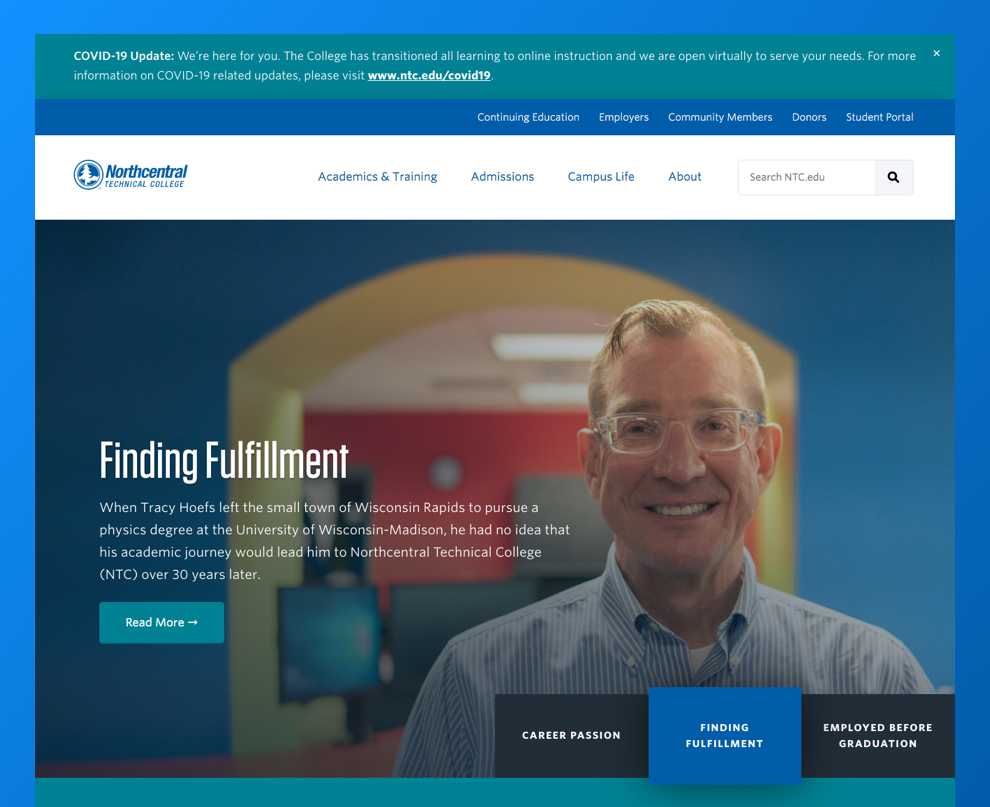 Almost every site Palantir has built over the past 6 years has a component-based design system in place, and as a result our clients are able to quickly create new pages and edit existing pages to communicate effectively. 
 
Let's work together.
Have an exceptional idea? Let's talk and see how we can help.