How to Gauge Your Support Needs
Every website needs continuous maintenance, no matter what the size and skillset of your team may be.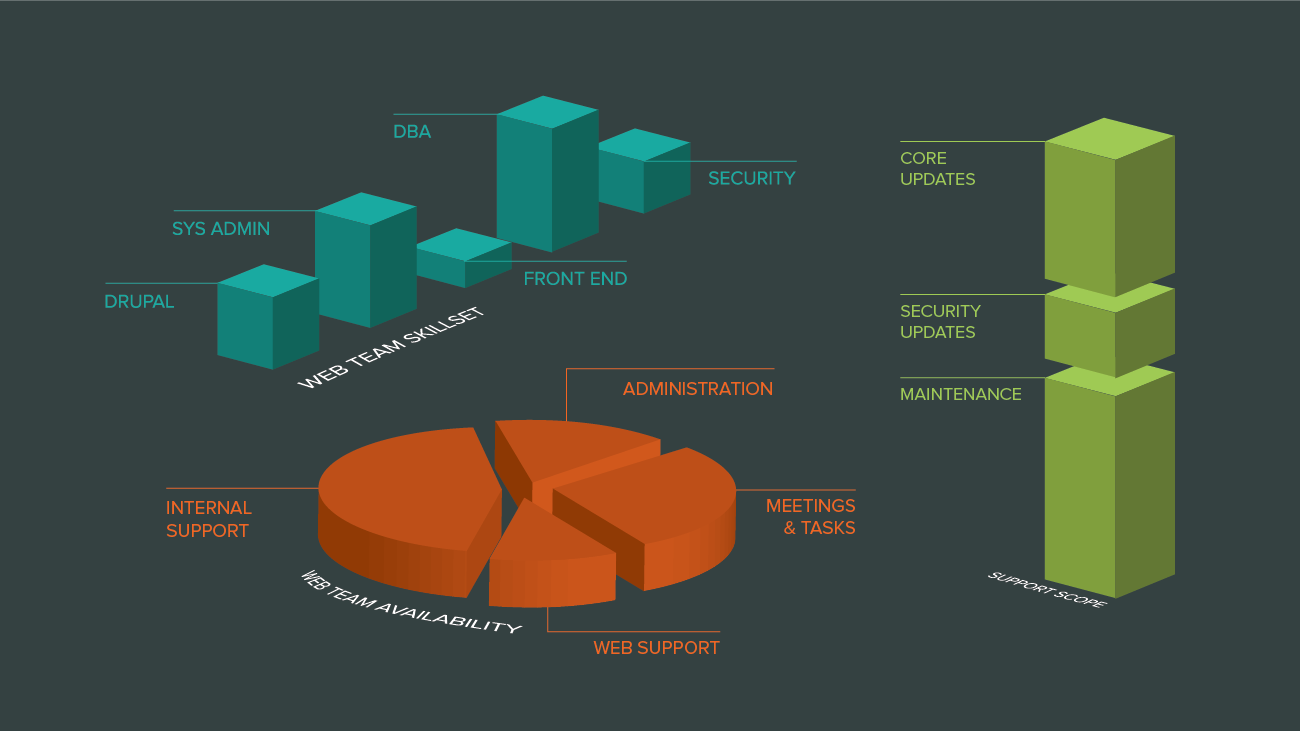 Websites are an important tool for most companies. Each website is different and unique, as is each website operations team. No matter the size of your web team, whether it is an entire department or a one-person operation, the important thing to remember is that your site needs continuous maintenance and updates to ensure that it runs smoothly and securely. 
How do you gauge the level of outside support that you need for your site? In most cases, that answer boils down to the following considerations:
Internal web team availability  
Internal web team skillset
Scope of maintenance and updates
Team Availability
Keeping your site secure should be at the top of your list, even if you don't have the time to do so yourself. If you have a small team with limited availability for website maintenance, at bare minimum you will want a support partner who can check weekly for any security updates that may affect your site. They will also be able to keep you informed on progress and ensure the updates are done in an expedient manner.
A support partner is also able to save you time by maintaining a standing relationship with your hosting provider. A good partner will be able to manage the relationship between you and your hosting provider on your behalf, and can assist in providing clarity when you receive important notifications and alerts.
Team Skillset
Based on the individual skill level of your team members, making changes or feature enhancements to your website can be a challenge. By partnering with a full-service agency, you can discuss the changes that you would like to make, determine the desired outcome, and discuss the best solution based on your team's skills.
At Palantir, maintenance differs by client and their experience level. Sometimes we perform the work ourselves, but other times we provide training that teaches our clients how to make the changes themselves. We typically prefer this approach because it empowers our clients to have more control over their site in the future. 
Scope
As we mentioned, a training arrangement can be very successful when you need to make small feature updates to your site. However, when it comes to making major website changes, it is always a good idea to bring in an experienced partner for planning. They will be able to provide strategic insight and help you create a sound project plan that allows you to reach your business goals.
Where Do I Begin?
We always begin with a site audit. The site audit is essentially a snapshot of your site. We do a technical review of the site, looking at things like the architecture, build techniques, theme implementation, and security. We then provide you with an audit report and walk you through the site findings. We provide information and recommend solutions about any urgent needs that we uncover, and we also split these into short and long term recommendations to provide a roadmap for next steps. 
Let's work together.
Have an exceptional idea? Let's talk and see how we can help.