If You Can't Get Out of It, Get Into It
How improv helped Annie Schow learn to fearlessly communicate.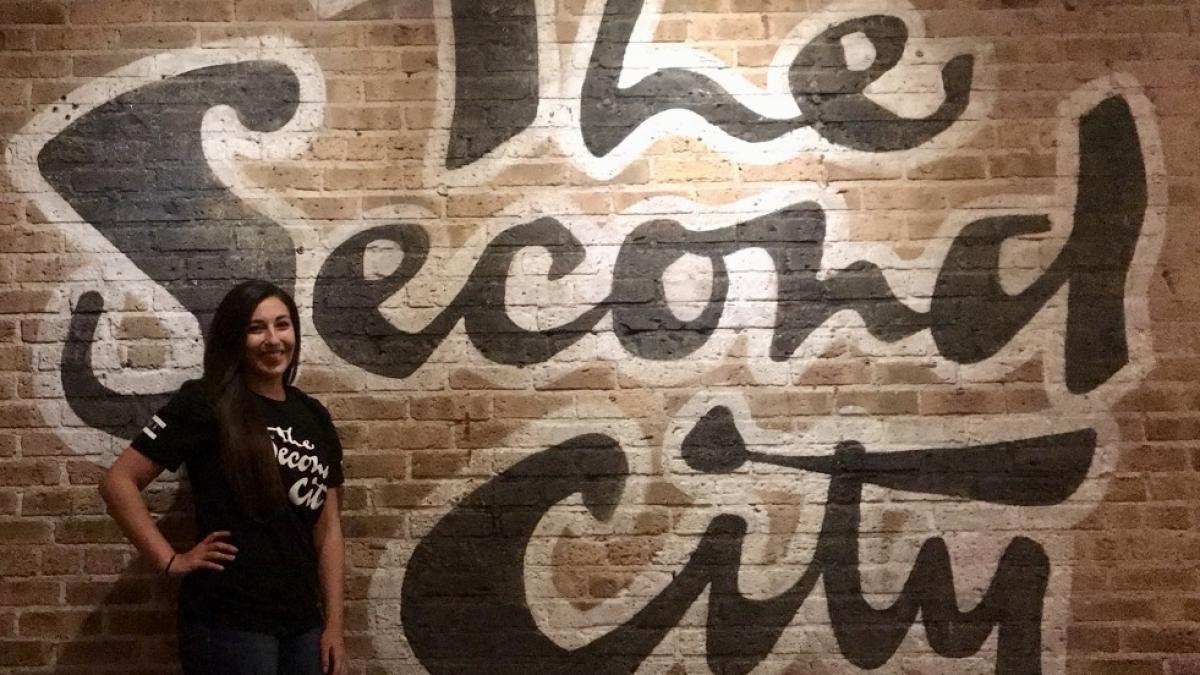 At Palantir, everyone is allotted a certain amount of hours and budget to spend on opportunities for professional growth and development. No matter what our roles are (sales, engineering, design, or operations) Palantir wants to ensure we have every opportunity available to gain knowledge and perfect our craft. I chose an 8-week improv course at The Second City in Chicago as my professional development opportunity, as I felt it would be the perfect way to brush up on my communication skills. Good communication with clients and prospective clients is important to Palantir's success and it was an area I felt I should strengthen.
I didn't really know what to expect from an Improv class. Would it actually help me with my role in Sales and Marketing at Palantir? Would I feel silly and be way out of my league? My fears and doubts quickly subsided as it was clear it would be the most beneficial course I had ever taken.
From the very first day I was put at ease by the instructor. After doing a few exercises that felt completely off the wall and silly she said, "if you can't get out of it, get into it." This rang so true to every aspect of my life, but especially to my role at Palantir as a Business Development Representative. As BDR, I am responsible for having initial conversations with potential clients, attending conferences, and identifying sales opportunities at networking events.
As a "salesperson" you often come into very difficult situations where potential clients may be a little tough to read, or they may ask questions you don't immediately know the answer to. Of course you want to make a good first impression and don't want to start conversations that may be mutually beneficial on the wrong foot.
My instructor's statement was so true! "If you can't get out of it, get into it!" Why had I never thought of this before? If you can't get out of a situation (like awkward or uncomfortable sales calls or conference booth settings) then you might as well go for it and hold nothing back!
Tips I learned through Improv to become a fearless communicator:
Take strong initiation: always come into a situation giving it all you have and don't be shy! Make good conversation and go with the flow.
Mirror the person you're speaking with: when in doubt, mirror the person you're speaking with (and not in a creepy way). Mirror their tone and mannerisms to make them feel at ease. If they want to be straight to the point, mirror them and get down to business! If they are warm, bubbly, and willing to have a nice chat about the weather or current events, then go for it! This will make the conversation much easier.
Take risks and commit: always take risks, and when you commit to something, see it through. That's not to say make crazy decisions, but don't be afraid to show your true self and personality, and don't be scared to make your point.
Support your team and trust one another: always show support to team members that you're working with. When you support one another and help each other feel comfortable, the chances of you succeeding will be much higher. If you have a piece of information they're missing, help them out and vice versa! This will show the potential client how knowledgeable your team is. Make sure you and your partners are building an environment in which you feel you can trust the other to support and not let you fall.
Take care of your coworker: Much like support and trust, taking care of your partners in the sales process is important if you want to succeed. For example, when trying to close a sale, if you support your partner with information (and vice versa), chances are the potential client will be able to make a more informed decision while you also build trust with them.
Be silly/permission to play: last but not least (and my personal favorite) - be silly and give yourself permission to play! You will mess up and sales won't always go perfectly, but if you allow yourself to have fun, at the end of day you'll be ready to dust yourself off and try again tomorrow!
Since completing the improv course, I have felt more comfortable having initial conversations with prospective clients and feel I can offer more help and information just by being more comfortable in the situation. I am way more comfortable working the showroom floor and bringing people into our booth to start conversations at conferences. I have also gained more confidence in project managing the sales process at Palantir and running meetings. I am still learning how to be more outspoken, as it is a process, but I am far more comfortable sharing ideas and speaking up.
Lastly, I have even gotten more comfortable attending networking events on my own and introducing myself to groups of people. Showing up to professional work events used to terrify me. The thought of going to events with other professionals without knowing anybody was almost paralyzing. I can now attend networking events on my own and have no problem walking up to groups of people to introduce myself and making professional connections from the events.
If your company has an opportunity for professional development, I highly recommend something like Improv to break you out of your shell. I not only gained valuable tools for our sales process, but I also made great friends along the way.
Stay connected with the latest news on web strategy, design, and development.
Let's work together.
Have an exceptional idea? Let's talk and see how we can help.