#PalantirValues 2019 Retreat edition
How we focused on our company values in new ways during our annual retreat.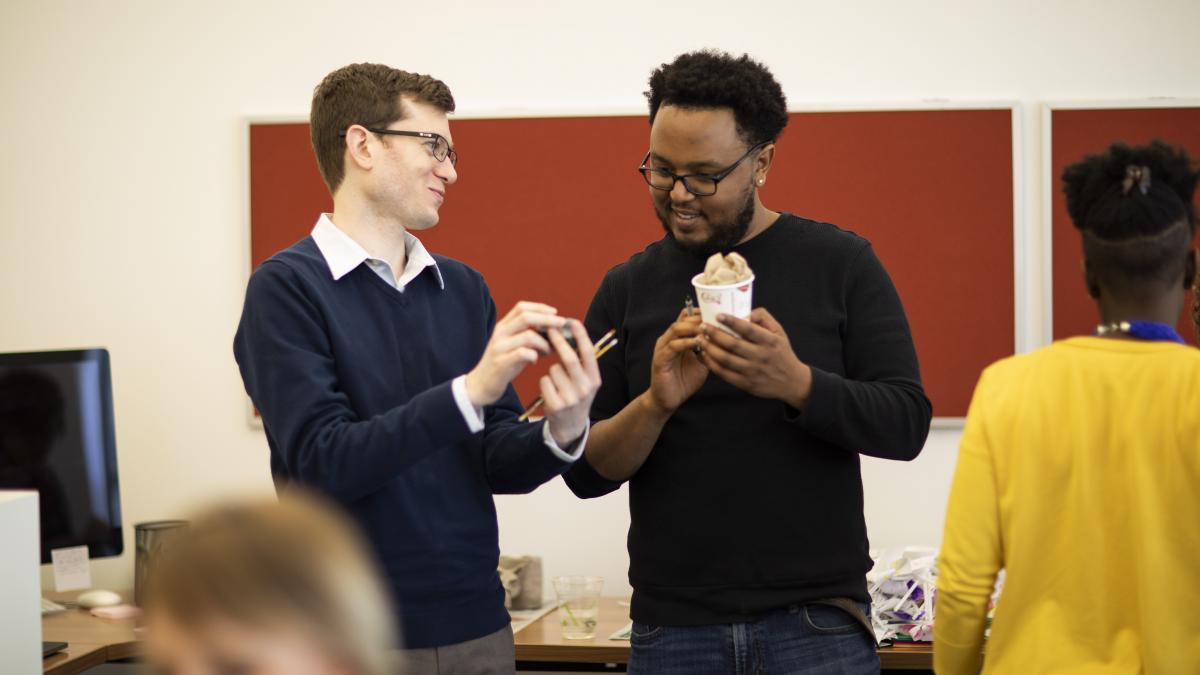 For our retreat this past spring, everyone volunteered to be on a Day Team that had responsibilities for hospitality, housekeeping, social connection and value theme integration for that day. Here are the report outs from each team.
Monday: We are collaborative.
Team Monday was focused on collaboration. Our activities were:
Yarn ball where people are able to say what they appreciate about another Palantiri.
In order to set a welcoming tone for the week, we made "swag" bags with the Palantir logo and filled with goodies and treats that people might need/enjoy throughout the week. Our team was a busy group of people, so we did most of our communication in Slack and if team members were able, they took a role for our day. At the on-site, all members were collaborative with our set-up and clean-up. There was a consensus that it was fun/great to work with people with whom we might never have the opportunity to collaborate.
Tuesday: We bring out the best in each other.
Team Tuesday was all about bringing out the best in each other... And tacos. As a team that shares a love of tacos and bad puns, we decided to marry the concept of communicating with each other with the concept of Taco Tuesday (catered by La Cocinita) to encourage the team to "tacobout" things together.
Our team's activity was the "Reciprocity Ring" - a concept created by Adam Grant. We all strive to help each other, but it's not always easy to do, nor is it always apparent how we can be helpful. The Reciprocity Ring encourages each person to ask for something as well as to give of their knowledge and network to help their peers. Each Palantiri wrote a sticky note with a dream, desire, request, or want (personally or professionally) and put it up on the wall. Then, everyone was encouraged to write notes to the asker if they had a way they thought they could help. Through the exercise, everyone was able to feel the benefit of being helpful while also not being afraid of asking directly for help so as not to be rejected.
Throughout the day, Team Tuesday shared some of our favorite moments of bringing out the best in each other through plus plus superlatives. Reading through Disco data on Slack, we were able to find some of the funniest, best, and most deserved plus pluses given out recently. Each person who received a plus plus award was also given a taco-related prize. (Obviously.)
Finally, just for fun, our team did a few more taco-related things:
We created the "tacoplus" emoji, which is forever usable in Slack!
We created pins that allowed each person to decide whether or not they felt up to "tacobout it" or if they didn't want to "tacobout it" in order to give everyone the freedom to express themselves and their mood at the moment during the retreat.
We created "taco 'bout awesome!" stickers so we could give each other in-person ++ (especially for taco puns).
And, we served fun mini coronas and margaritas for happy hour before the Team Dinner!
Wednesday: We are curious.
Since the retreat is the only time during the year where the whole team gets together, we wanted to encourage team and culture building by getting to know each other better. Most of our activities focused on learning new things about each other, while others challenged you to think critically or try something new.
For our daily starting activity, we played "Two Truths and a Lie". It was a fun way to learn interesting facts about other Palantiri. It encourages players to think critically about what they do and don't know about others. It was a great conversation starter for the day and surfaced some interesting facts about each of us that wouldn't come up in normal conversation.
Our other daily activities were various riddles around the office, which encouraged curious thought and a Palantiri-themed crossword puzzle, which furthered challenged you to chat and learn more about each other.
For lunch, we catered in Viet Nom Nom and had bahn mi sandwiches and pho. Our snack was focused on trying new and interesting combinations. With various "mystery" apples as the base, we provided a variety of spreads so you could try new combinations. Additionally, we included some non-traditional chip flavors for a curious surprise!
At the end of the day, we calculated scores for riddles, crosswords, and two truths & a lie and handed out mystery prizes to the winners. Additionally, we wanted to continue the celebration, so the team ordered surprise cakes for the many Palantiri with birthdays during the week. For our evening activity, we had a cocktail hour with Palantir-themed cocktails & mocktails. During this hour we also set up 'craft' stations. There was a planter painting station, a clay building station, and a miniature painting station. Palantiri were encouraged to think artistically and create something new.
Thursday: We think ahead.
#TeamThursday's theme was centered around Palantir's core value of "We Think Ahead: we create positive and lasting impact by thoughtfully and deliberately making the best choices and helping others to do so as well. We consider the big picture, take the long view, and adapt to meet changing needs."
We started the day by giving everyone a packet of open source seeds from FedCo, an organic seed cooperative based in Maine. Our morning break activity was called, "Penny for Your Thoughts" - everyone picked a penny from a cup with a year that had personal relevance or meaning to them and we gave people the opportunity to share their stories with the group. We also served pastries from Smack Dab Chicago. For lunch, we served food from Freshii.
Our afternoon break activity was a group puzzle activity - each team member started with one puzzle piece, then found another person who had a matching puzzle piece. The pairs then came together to complete the puzzle. We also served crudite, fruit, and cheese from Whole Foods. 
In the evening, we hosted Game Night at the Palantir office with pizza from Gigio's, beer from Sketchbook Brewing Company, and other non-alcoholic beverages. Team members brought in some of their favorite games, including Scrabble, Exploding Kittens, Catan, and Golden Girls Clue. We also played Rhino Rescue, a cooperative board game developed by Ken Rickard's Winged Five Games for Open Strategy Partners.
Friday: We are accessible.
We approached Friday from all angles of our theme—mindfulness of the needs of others; openness and authenticity; kindness, grace, and humor. We understood that everyone would be exhausted by the end of the week, so we remained flexible in our plans for the day.
For example, we pivoted from the original activities we planned to new ones as needs came up during the week. In response to another team's activity involving on-the-spot thinking, we saw a need for quiet introspection. We decided everyone should receive a note of appreciation from a colleague, something that reminds people of how they're awesome. So we created the time and space people would need to reflect on their appreciation of others rather than share aloud to the group. This allowed for moments of connection while expressing it in a different way than the rest of the week.
We provided lunch from mission-driven, local business Curt's Cafe. Curt's teaches work and life skills to young people aged 15 to 24 who are living in at-risk situations, such as experience with the judicial system, homelessness, or food insecurity. Through a combination of food service training, classroom teaching, and individual mentorship, Curt's is able to drastically reduce the recidivism rate of those who go through its program. We were happy to support an organization so in line with our values.
Let's work together.
Have an exceptional idea? Let's talk and see how we can help.