Self-Organizing Teams: A Palantir Retreat Case Study
How we piloted the concept of self-organizing teams during our annual retreat this May.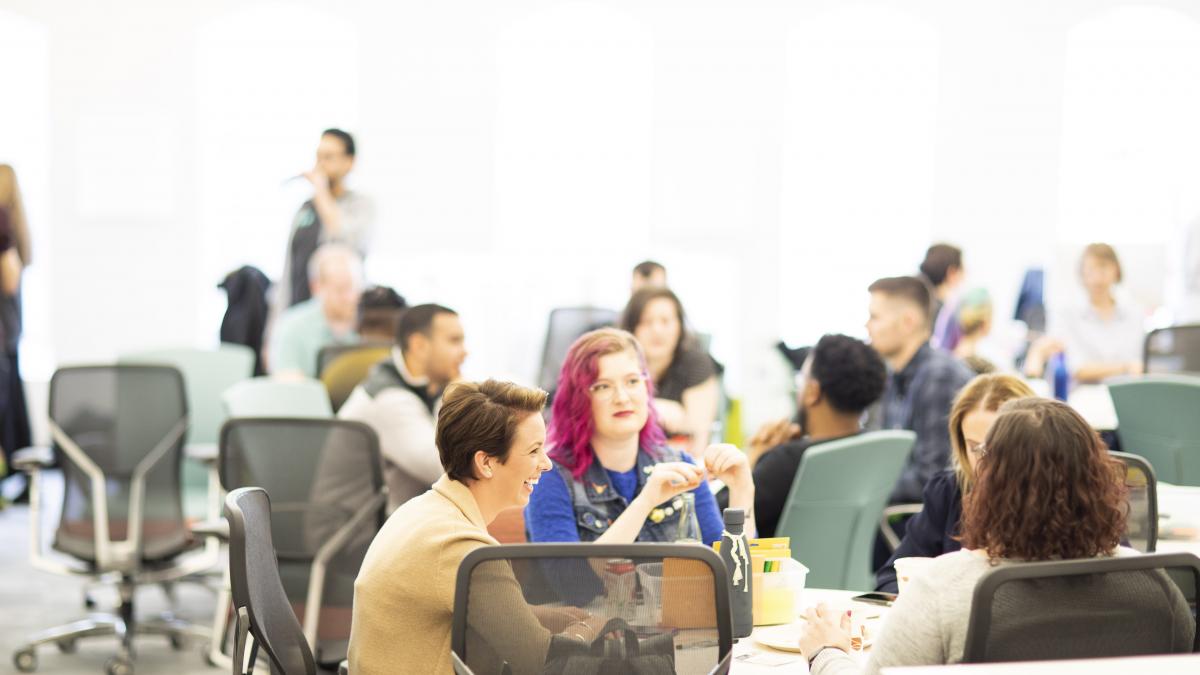 As we wrap up a mini-retreat with our team this week, we reflect on the last time we all were together earlier this year. The first week in May 2019, Palantir held its annual retreat at our Outpost. While the on-site retreat is always an important time of learning and connection as a remote-first company, this year held special importance as we are in the midst of a transformation from doing agile to being agile.
Building on a key agile mindset of interdependence, we organized the retreat around self-organizing teams. Activities were designed to help us reinforce healthy teams and included:
Discussion and self-assessment of communication styles (Example)
Design of team charters
How to build Psychological Safety
In years past, a small committee has been responsible for the planning and logistics and worked hard to make sure that our values were well-represented and our team well-cared for. However, as we embrace agile not just for our project work, but for how we work organizationally as well, there was no better time or place to jump in than to explore self-organizing teams with the execution of the retreat itself.
Each person signed up to be on a Day Team for at least one day during the retreat. Supplied with an individual budget, the Day teams were responsible for:
Arranging food and drinks: at a minimum, this includes a plan for lunch, but could also include breakfast, snacks, happy hour, etc.
Housekeeping: setup, take-down, make the coffee, etc. Basically, keeping the Outpost a tidy and awesome home for the week.
Theme: each day has a designated theme corresponding to one of Palantir's core values. The challenge was to show what that value means here. SWAG, decorations, be creative.
Social: making everyone feel welcome and facilitating connection.

Each day team had 5-10 minutes to open and close the day's festivities.
There were two day team-led breaks each day for ~10-15 minutes.
Teams could (but didn't have to) plan an optional evening activity.
Facilitating the retrospective for the previous day.
Conclusion
While the content of the retreat was very timely and helpful, the Day Teams experiment was extraordinarily successful. Here are some of our observations:
Creating cross-functional teams allowed us to connect with people we might not work with on a daily basis, giving us a head-start on the week's social connections and gave each person ownership in the retreat as a whole.
The work of running the retreat was so well-distributed that we were able to devote more time to the curriculum development in advance as well as schedule adaptation during the retreat itself than we have in past years.
These small day teams were far more effective than any small team (or a committee of the whole) could have been. This meant that there were delightful surprises and sustained enthusiasm throughout the week for everyone.
Even though logistics were divided among all five days, there were some shared needs. The teams decided to pool some resources to purchase beverages, compostable plates, cups and utensils, as well as convenience items for the bathrooms.
In addition, individuals pitched in where they saw opportunity and need:

A small team of local Chicago-tiri (Bec, Sarah, Maggie and Adwoa) recognized that in order for the Outpost to be welcoming and usable for the coming deluge of Palantiri, we'd need to make some changes. From labeling all the cupboards to rearranging the furniture to create a quiet space, seated spaces and standing spaces for such a large group, their efforts allowed the Outpost to stretch and be an accommodating home for us all for a week.
Bec and George arranged to have four-32-gallon compost totes provided by Collective Resource, a women-owned Evanston-based composting business. We were able to divert most of the retreat week waste away from the landfill into recycling and compost streams.
Ashley constructed makeshift vacant/occupied signs for the bathrooms.
There was SO. MUCH. FOOD. Thankfully, Michael, who had previously founded a non-profit to reduce food waste, leapt into action and arranged to deliver our excess to help Evanston's Connections for the Homeless. We were able to make two donations: one mid-week and one at week's end.
Between the content and the connection, I remain grateful to the team members for carving out this week and being so engaged, present and thoughtful all week. (I am also very appreciative of those in their lives who help make it possible.) This was definitely one of the best retreats we've ever had.
Let's work together.
Have an exceptional idea? Let's talk and see how we can help.