Founder George DeMet reflects on our history in the open source community and the principles that led us to where we are today.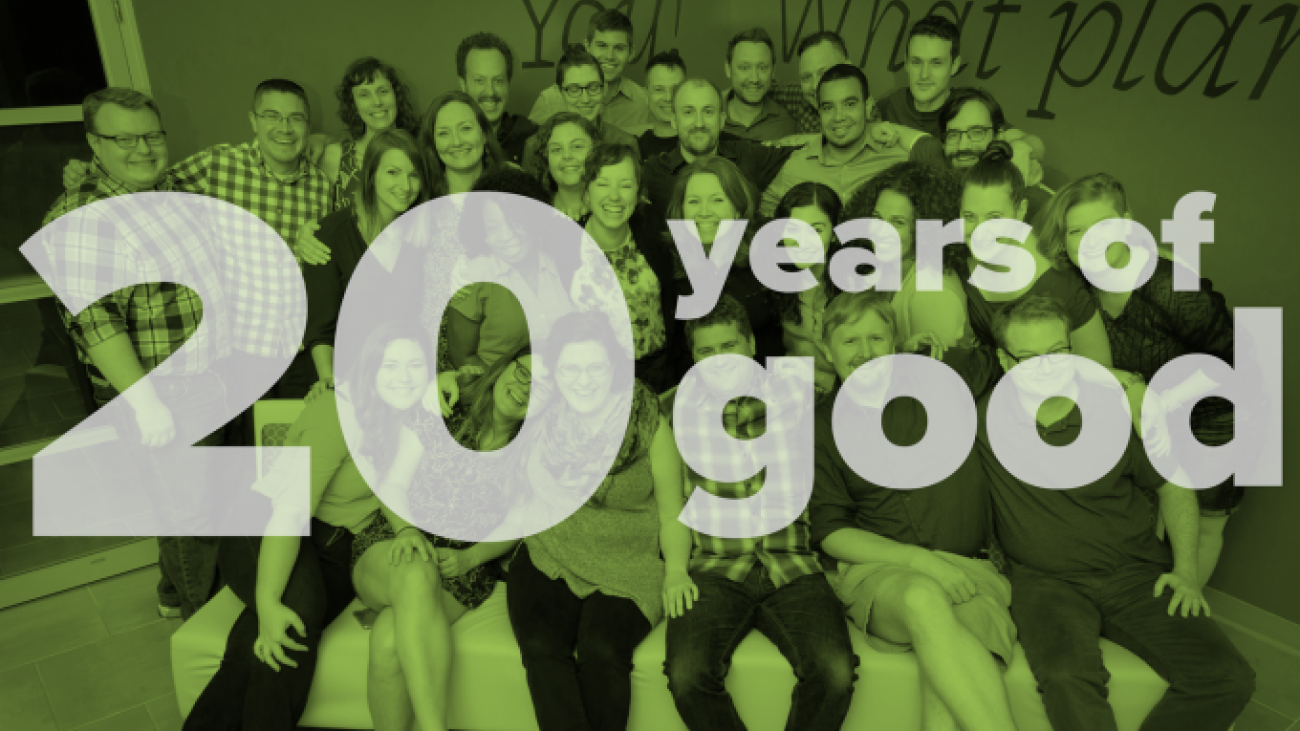 When I first discovered the web in the fall of 1994 as a freshman at Northwestern University, I was enthralled by the potential it had to provide a platform for anyone, anywhere to share their knowledge and experiences with the world. From the very start, I knew that I wanted to be part of shaping this new form of media, and after building a few sites of my own (devoted to Carl Sagan and the movie 2001: A Space Odyssey), I started helping others build sites as well.
At the time, the web was dominated by garish, ugly sites with scrolling text, animated backgrounds, autoplaying MIDI tunes, and other relics of the GeoCities era. I thought the web could and should be much more than that, so in July of 1996, I started a company called Palantir Internet Services. Our original vision was to create high-quality, professional sites for communities, businesses, and organizations of all shapes and sizes, and in so doing, to help make the web a more beautiful place.
Later that year, I met Tiffany Farriss, who had also been working with the web since 1994, and along with a network of other friends and contractors, we started building award-winning sites, primarily for higher education and non-profit association clients. In April 2000, we incorporated as Palantir.net, Inc., and leased our first office in Evanston, Illinois less than a year later.
The majority of our projects during this time were as development partners to graphic design firms for colleges, universities, and museums, with some end-to-end work for other clients. This experience helped us not only develop a strong understanding of the market, but also gave us the opportunity to observe and learn from the approaches that other firms took to solving the needs of their customers. We learned how to focus our efforts on creating solutions that are rooted in the strategic business objectives of the client and designed to empower and enable the people who use and rely on them every day.
Throughout the early to mid-2000s, we worked with a variety of open source and proprietary technologies, including our own home-grown content management system. In 2006, we built our first Drupal site and decided to drop development of our own platform shortly thereafter, realizing the advantages of becoming part of a larger open source community.
Being active contributors to Drupal and other open source projects has helped increase our profile and given us new opportunities to work even more closely with clients for whom having a well-defined digital strategy is vital to achieving their mission. In addition to our work with clients in higher education, cultural institutions, and nonprofits, we have also designed and built web platforms for clients in media, publishing, healthcare, and the public sector.
By building our in-house design and strategy capabilities and sector expertise, we have been able to help those and other clients make better choices that result in improved outcomes, regardless of what technology platform they're using. Whether it's through our consulting, design, development, or support services, we're here to help people navigate a world of ever-changing and evolving digital experiences.
And while we have had the opportunity to work with some high-profile companies and organizations over the years, we have never defined our success by the brands we work with, but by the relationships we build with our clients and the results we help them achieve.
Twenty years is a long time in any industry, and on the web, it's practically an eternity. On our first site in 1996, I described our vision for the future of the internet, which I think still holds up pretty well two decades later:
Millions of people worldwide are now using computer terminals at school, work, and home, connecting to other computers thousands of miles apart. This new form of media that the internet provides can be used by people for accessing information, communicating with friends and family, or entertainment.

Rather than relying on the often limiting metaphor of a linear "Information Superhighway", we believe that fresh and creative perspectives are necessary to realize the full potential that the internet has to offer.

We hope you will join us as we look into the crystal ball and try to envision the future of a global community brought together by online communication and based upon the ideals of free and open discourse, equal access to information and knowledge, and exposure to new perspectives and ways of thought.
As we look forward to the years ahead, I believe that it's important to remain committed to the values that have carried us to where we are today. By creating an open and inclusive environment where people are able to create and collaborate, we've spent the last twenty years working to help others discover, create, and share knowledge. And while no one knows for sure how the internet will change over the next twenty years, we'll be there, helping our clients be successful and helping to help improve humanity as a whole.
Let's work together.
Have an exceptional idea? Let's talk and see how we can help.