Welcome to Our New Website!
How the new Palantir.net builds on twenty years of experience.
Earlier this week, just over twenty years after the launch of our first website and twenty-five years after the debut of the very first website ever, we launched the seventh significant redesign of Palantir.net since the company was founded in 1996.
Our new site is designed not just to help people understand what it's like to work with Palantir and some of the results that we've helped our customers achieve, but also to serve as a resource to help others discover, create, and share knowledge.  In addition to the usual case studies and blog posts, we're also highlighting our podcast, webinars, and conference appearances, as well as providing even more opportunities for people to begin conversations with us. The site is (of course) built in Drupal 8, and we plan to continue to add new features, functionality, and content over the coming days, weeks, and months.
Given that this is the twentieth anniversary of Palantir, I also thought it would be fun to use this launch as an opportunity to take a trip down memory lane and see how our site has evolved since July of 1996.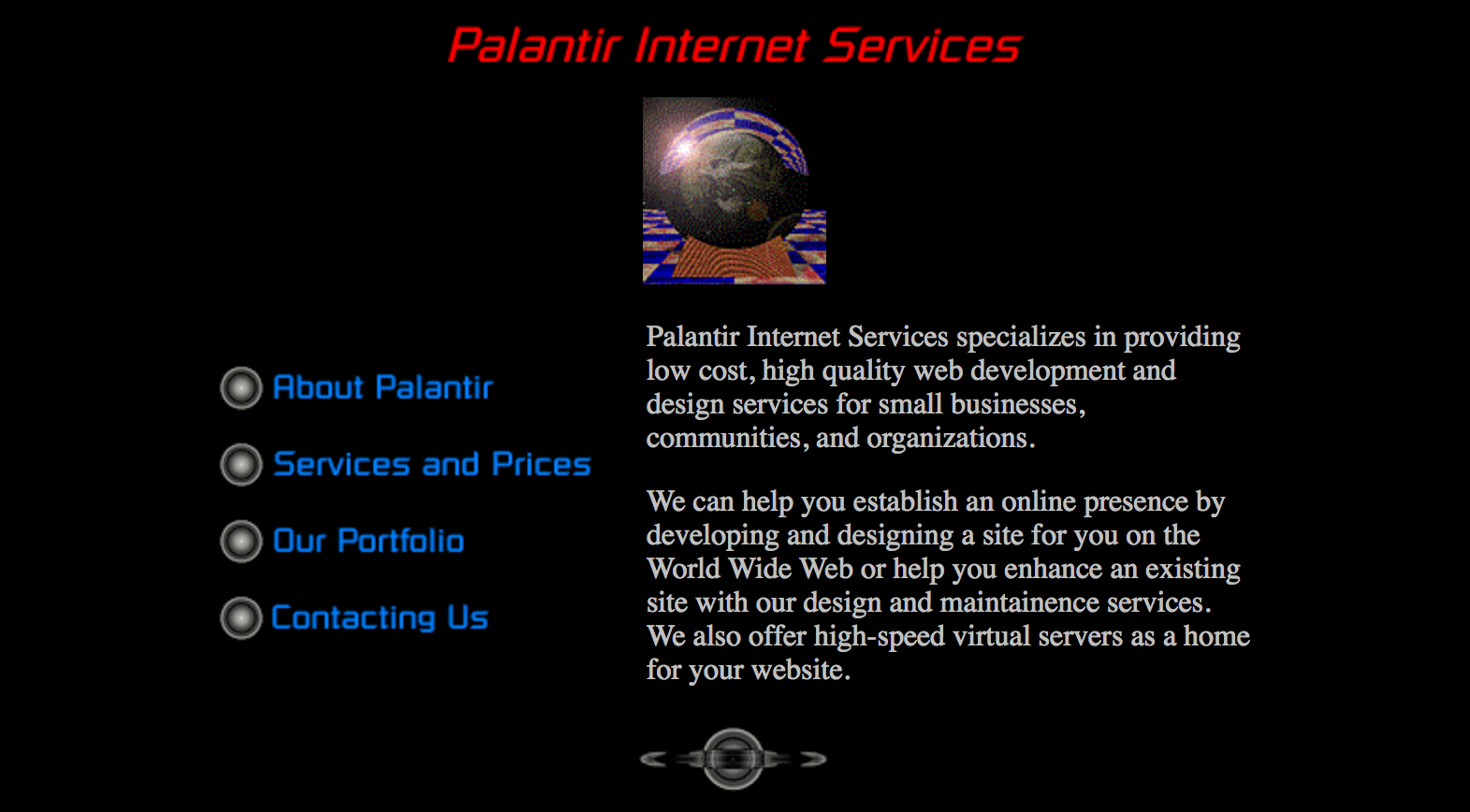 During our first few years in business, we were known as Palantir Internet Services and focused on designing and building sites for small businesses, communities, and organizations. At the time that our first site launched, version 2 of Netscape and Internet Explorer, the first browsers to provide support for JavaScript and animated GIFs, had just been released.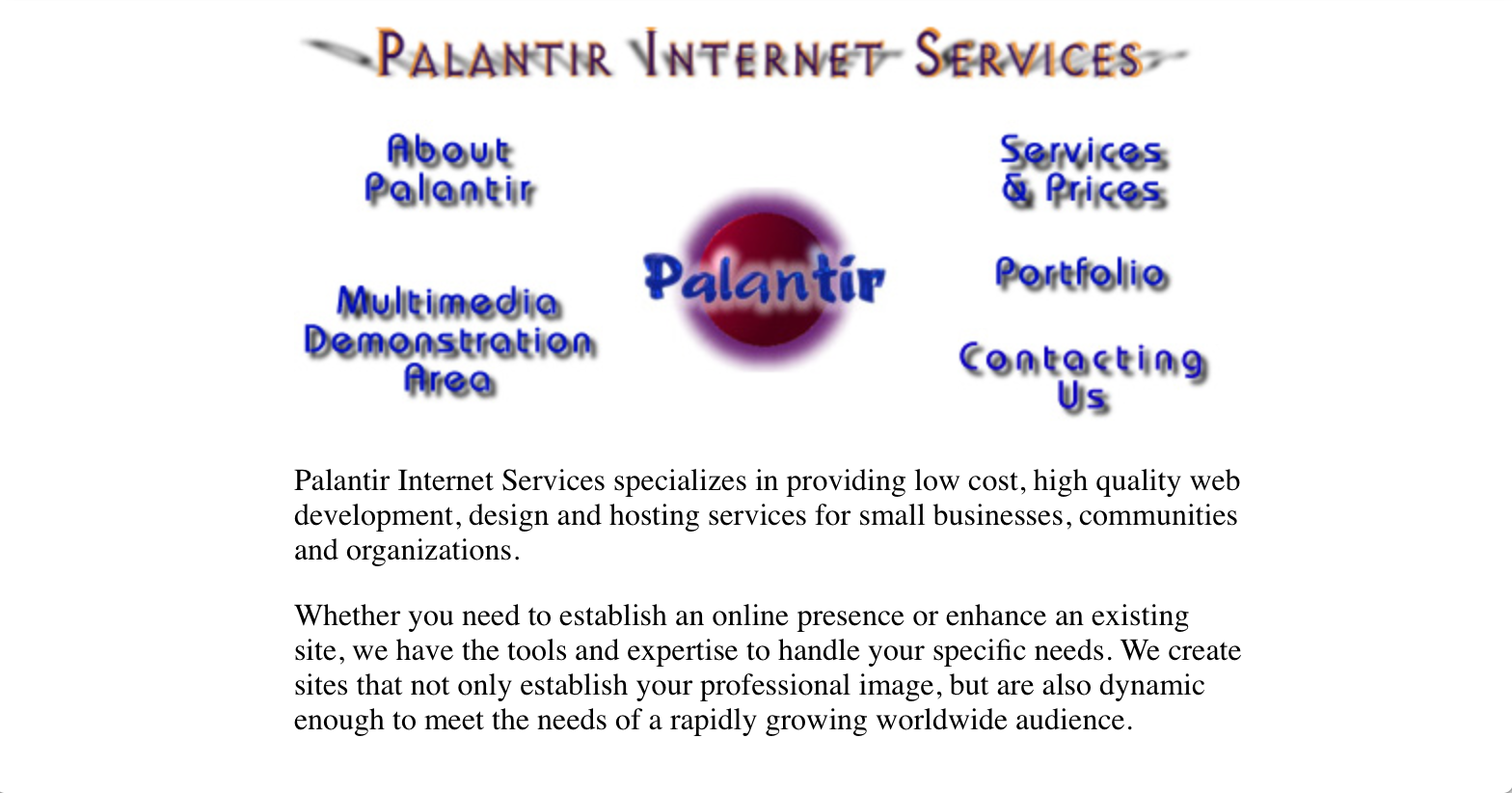 The second version of our site launched in 1997, over a year before Google was founded. For this version of the site, we went a little over the top with the drop shadows, which were all the rage at the time (just please don't ask where the light source is coming from).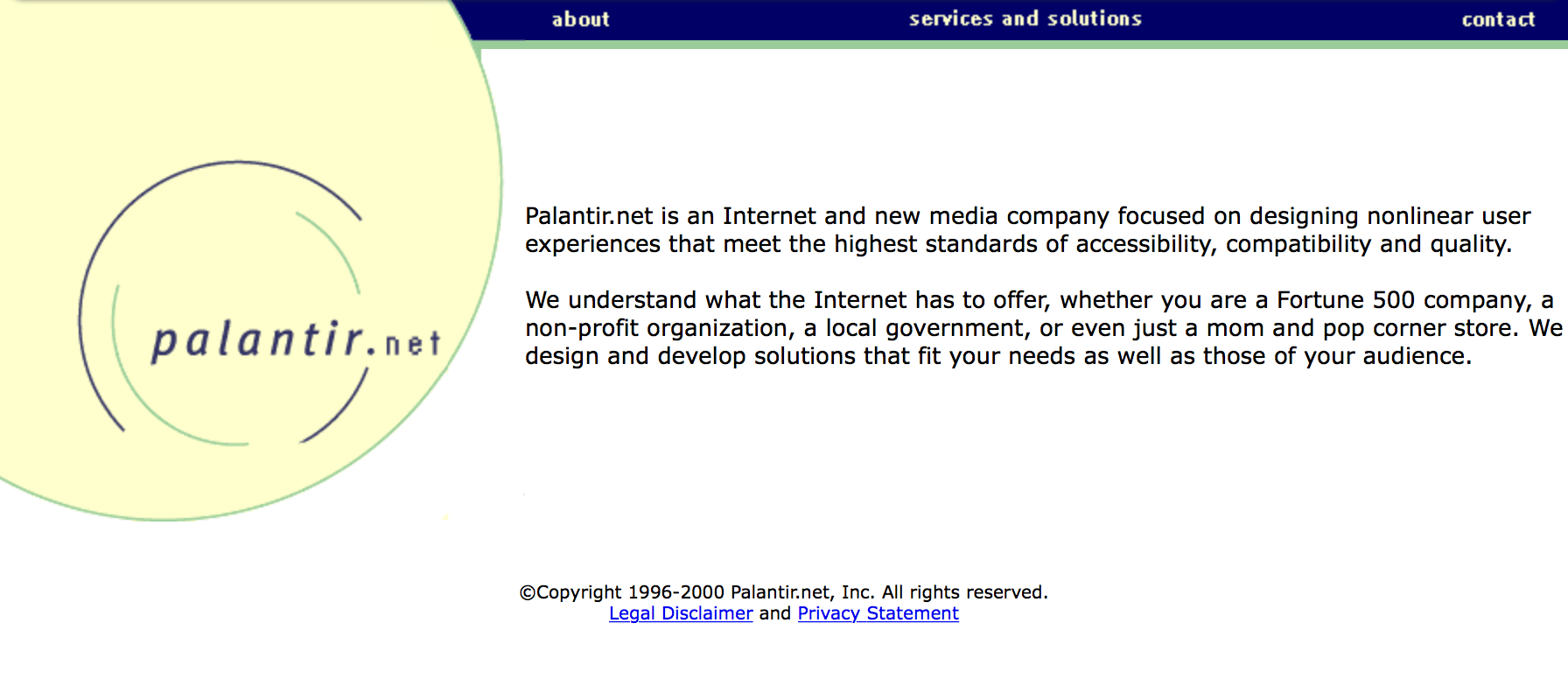 The new millennium brought a new site and a new brand identity that dropped the rendered logos and drop shadows in favor of something much more minimalist. We really appreciated the sophistication of our new logo, but it was pretty hard to read, and didn't last that long.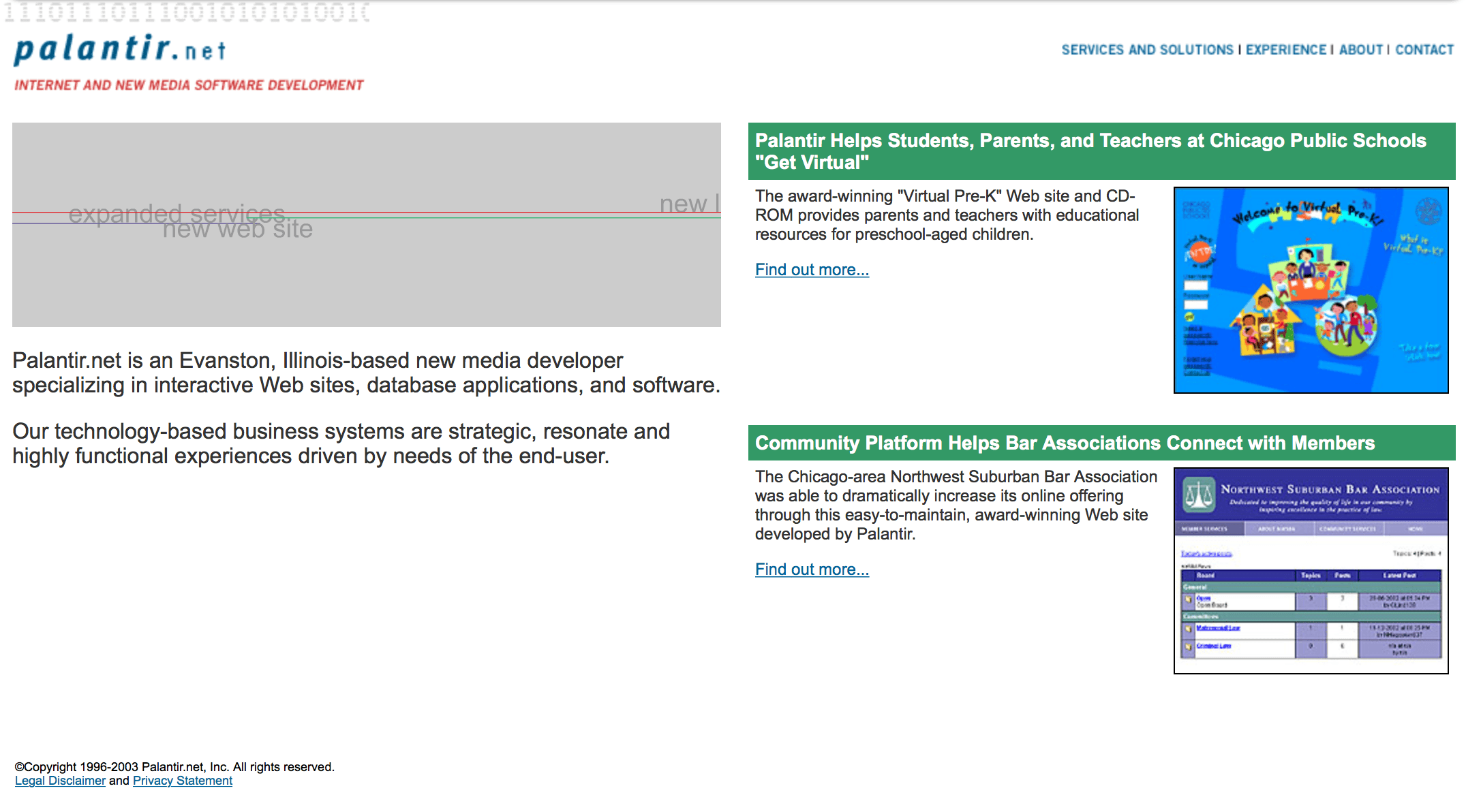 2003 was the first (and only) time we used Flash on our site, for a somewhat cheesy animation talking about our expanded services and offerings. This also marked the first time we took advantage of our home page real estate to talk about some of the projects that we had worked on.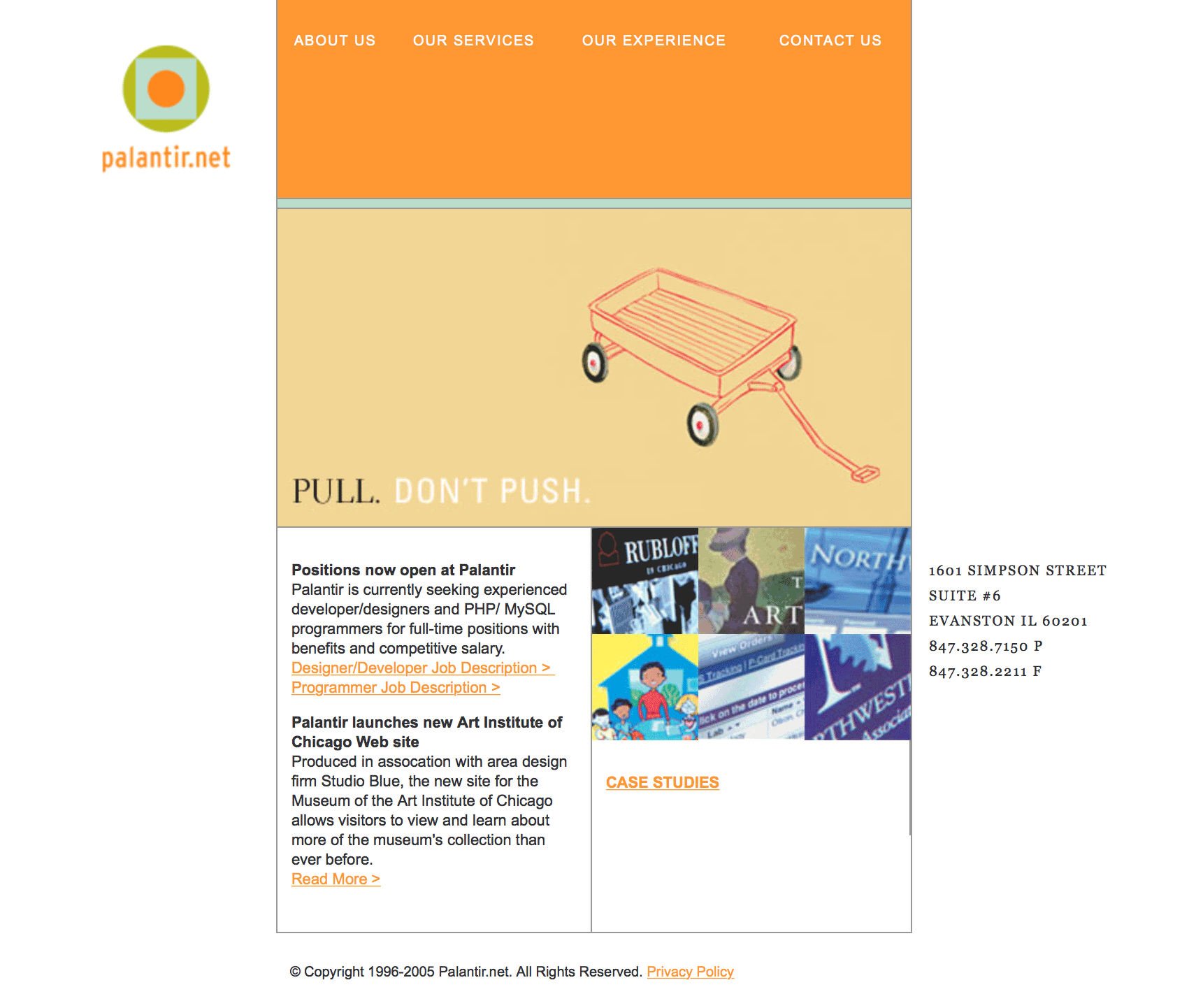 In 2005, we introduced the first variation of our current logo and wordmark along with a new site that was more graphically oriented than previous iterations. This version of the site lasted for several years, and was migrated from table-based static HTML to a CSS-based layout built on Drupal 6 in the spring of 2008 when we launched our blog.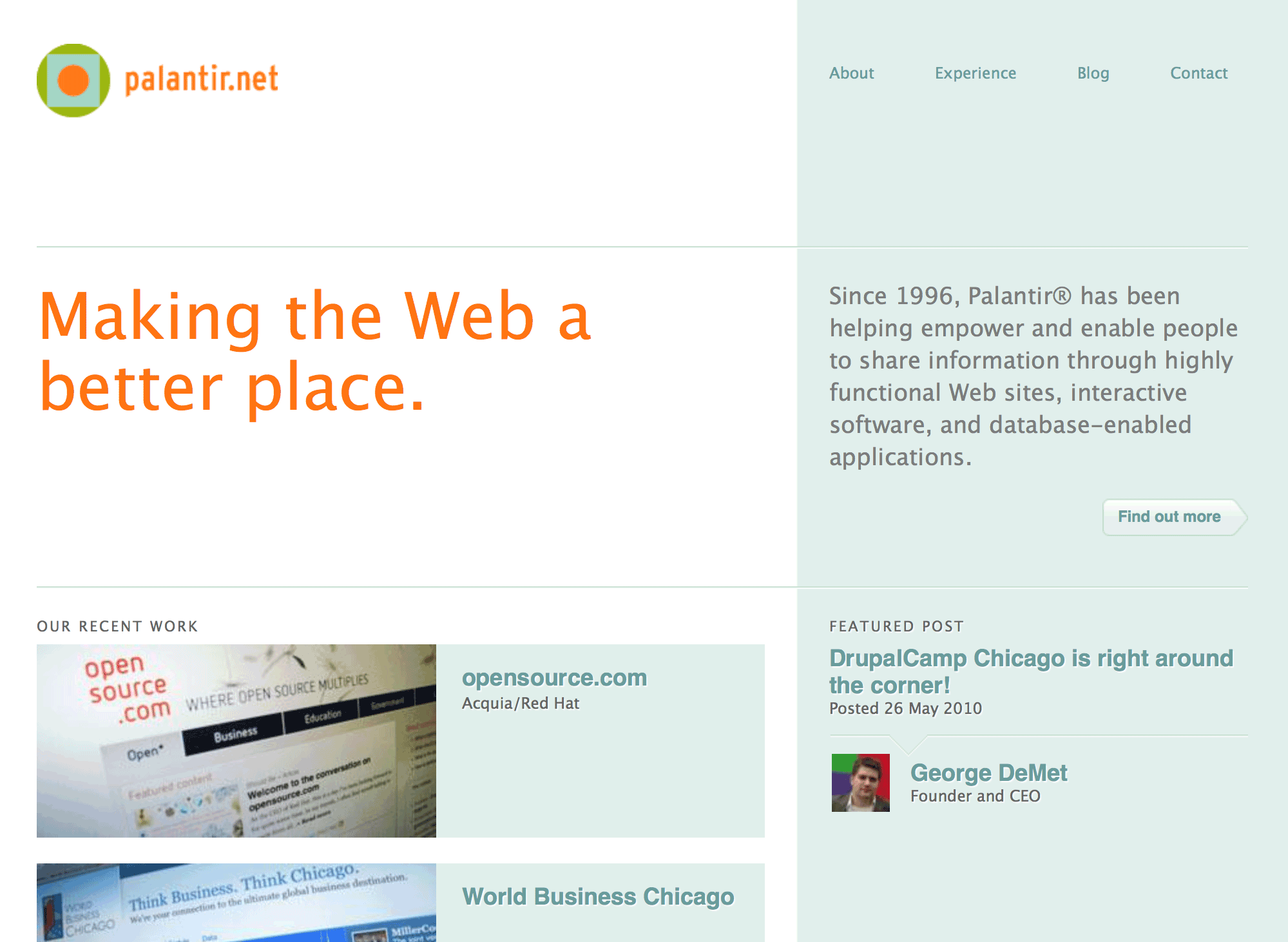 Our next major redesign was In 2009, and marked the first time we were able to do interesting things with typography on our site. Taking full advantage of Drupal's content management capabilities, the site was kept regularly updated with recent projects, news, and blog posts.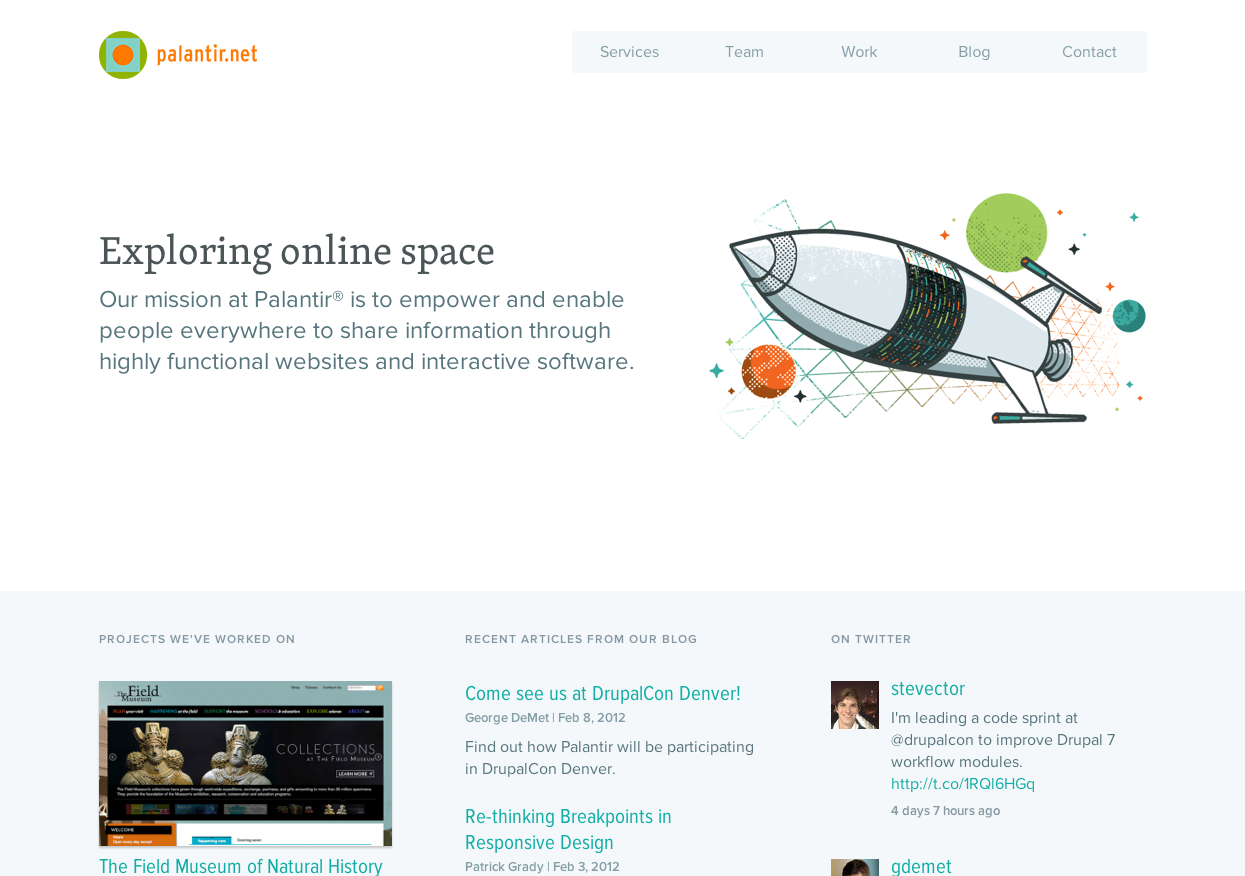 On August 29, 2011, we launched the most recent version of our site, which was built in Drupal 7 and our first site to integrate social media and to feature a mobile-friendly responsive layout. Ethan Marcotte, a well-known web developer and author who coined the term "responsive design", even listed the site among his top 20 favorites that year, saying, "There's quite a bit I love about their site, not least of which is the diversity of layouts they're balancing."  We were pretty proud of the site as well, and apart from a few tweaks in spring 2013 to incorporate some updates to our logo and typography, we didn't make too many changes over its five-year lifespan.
The web is constantly moving though, and five years is a long time for any site to go without a redesign. As we've continued to grow as a company, it became clear that our site needed to not only better showcase the talents of our design team, but also better represent the breadth and depth of our work. The recent release of Drupal 8 also provided us with the opportunity to build our new site on a stronger and more flexible technical platform on which we can continue to innovate for years to come.
From our own experience, we know it can be hard to take the time to step back and think critically about the way you present yourself online. As a firm that focuses on helping others improve the way they create and share information online, we help guide our clients through the process so that they can make the most out of the resources they have available and present themselves in a way that's authentic to who they are. That's what we've tried to do on our site, and it's something we'd love to do for you as well!
Let's work together.
Have an exceptional idea? Let's talk and see how we can help.