Enhancing A University's Community, Values, and Identity Through Design
Visit Site
Project Highlights
Using an agile process for a responsive redesign that resulted in easier navigation and an engaging design.
Utilized an Agile development and design process
Parallax and responsive site design
Trained and empowered client team to manage new site content
Our Client
Founded in 1860, Augustana University (previously Augustana College) is a private liberal arts and professional university located in Sioux Falls, South Dakota, and is home to nearly 2,000 students from 30 states and over 40 foreign countries. Augustana University's five core values are: Christianity, Liberal Arts, Excellence, Community and Service; all of which serve as the foundation for the University's academic and student life programs. Thus, the Augustana site needed to both accommodate a diverse student body, and reflect these important values.
What They Needed
Augustana University wanted a responsive, redesigned site that was both easy for users to navigate and maximized the use of content types in multiple areas of the site. The site also needed to accurately tell the story of Augustana in a more compelling way, look fresh, and differentiate itself from its peers – ultimately attracting prospective students, parents of these students, and faculty, and being a resource for current students and faculty.
How We Helped
Palantir approached Augustana's site redesign and development in several innovative ways:
Palantir used the Agile process not just for development, but also for design
A cleaner visual design, coupled with parallax effects, makes the site's page designs come alive
A responsive design framework enables visitors to seamlessly view and access content regardless of the screen size of their device
Palantir's development team performed a virtually seamless migration of content from their legacy site to Drupal 7
The design of the new website successfully tells the story of Augustana, emphasizing the institution's academic excellence and close-knit student community. Palantir made sure to incorporate school colors and spirit in every detail of the design to emphasize Augustana's distinct brand. To draw the attention of visitors to key site elements, Palantir utilized parallax effects, where the background of the site moves at a different speed as the rest of the page when scrolling. These and other design elements, such as a clear typographic hierarchy, helped generate a clean and elegant outlook that enabled viewers to engage with Augustana through photos of its students, faculty, campus, and facilities.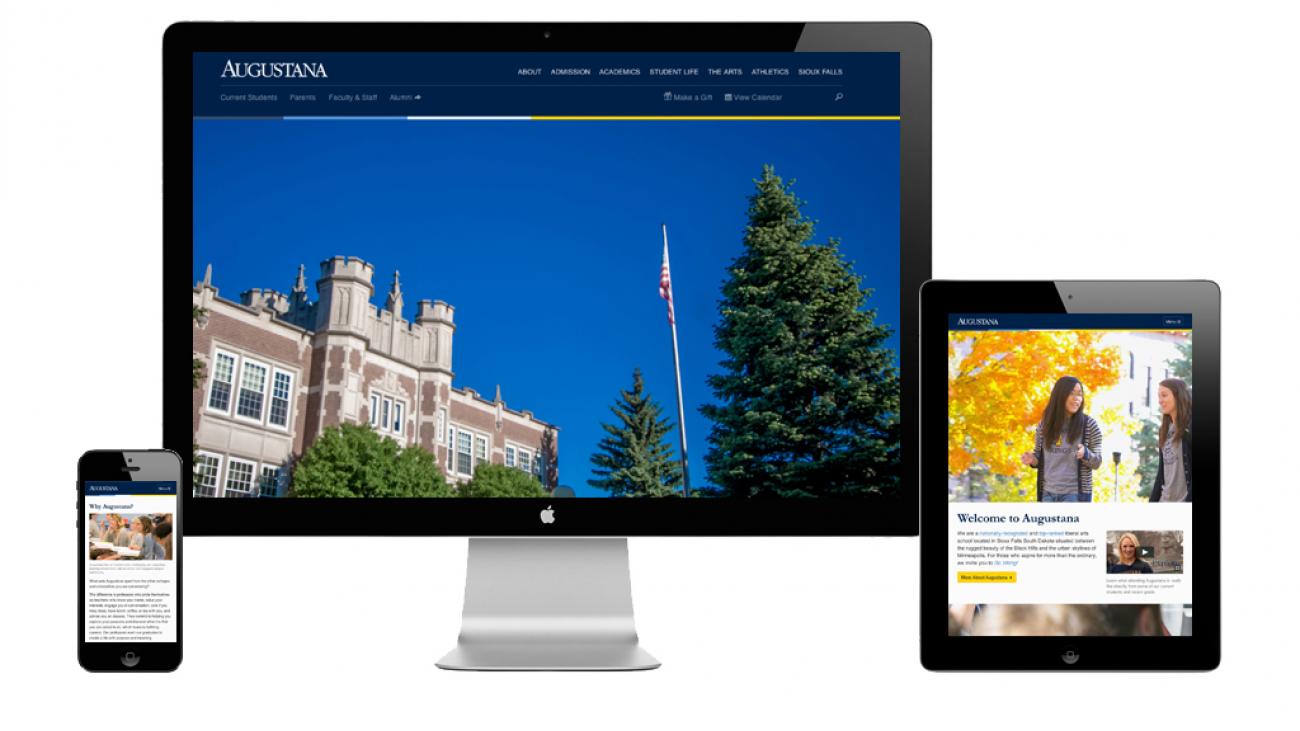 Palantir's design team used the iterative and incremental Agile process to drive ongoing collaboration between the client, the design team, and the development team. Palantir's design team released modular design deliverables like working prototypes and living style guides in two-week cycles. Working in collaboration with Augustana's communications team to set priorities for each design cycle helped ensure that everyone involved remained focused on high-value goals, ongoing continuity, and made the entire process more efficient.
On the technical side, Palantir's development team migrated content from Augustana's existing Drupal 6 site to Drupal 7. Content types were consolidated to make them more consistent and to more easily enable the reuse of content in different areas of the site. In addition, while access control for the previous site had been based on menu hierarchy, the use of Workbench Access on the new site enabled greater control and flexibility over who has the ability to manage content in different areas of the site. Palantir also conducted an accessibility audit to ensure that Augustana's site could be used by visitors utilizing assistive technologies.
The Upshot
Augustana's new site is more visually appealing, easier-to-use, and more accessible than before. Whether they're on a desktop computer, tablet, or smartphone, visitors from anywhere in the world are now able to gain a better understanding of the University's unique community, and focus on academic excellence. Site administrators can now easily tell Augustana's story using streamlined content management tools that give them a higher degree of flexibility and control over their site, ultimately providing content to its faculty, parents, and current and prospective students.
Image Attribution: "Another view of the Falls" by Jerry (jerry7171) under Creative Commons.
Let's work together.
Have an exceptional idea? Let's talk and see how we can help.