Columbia University Department of Surgery
Ensuring Patients Come First
Visit Site
Project Highlights
Developing a Drupal multi-site platform to help unify a rich history of content.
Complex, contextual information architecture system
Welcoming, patient-first visual redesign and strategy
Large-scale static-to-dynamic data migration
Our Client
New York City-based Columbia University Department of Surgery is an incredibly advanced network of creative alliances in the field of medicine and medical research. Because of its collaborative spirit with global experts in both academia and the biotech industry, it has produced many "firsts" and has provided the absolute highest quality in patient care.
What They Needed
With its rich and complex history and content, an organization like the Department of Surgery has no shortage of inherent challenges with regard to its web presence: thousands of static HTML pages of content, no real Content Management System (CMS) in place, and information stored in disparate databases. Our expertise not only improved the Department of Surgery's presence online, it also allowed the Department to focus on what's most important: the patient.
They also knew they wanted a warm, welcoming site that would not only make it easy for visitors to find what they were looking for, but also provide them with the resources necessary in case they needed to become a patient. This business need would be considered heavily in the design and development over the course of the project.
In addition, because of the sheer number of specialties and sub-specialties offered by the Department, the robust navigation tree and its related content needed to be handled conditionally. Without providing the correct context to site visitors, it would quickly become confusing and frustrating.
All of this work would not only manifest itself as a site for the Department of Surgery, it would also act as a Drupal multi-site platform to which other Departments could migrate in the future. Shared branding, resources, features, themes, and extensive technical documentation would cut down on overhead and increase security and efficiency. This unifying platform would not only lend credibility to the departments that adopt the platform, it could also make the entire experience better for all patients visiting sites across the University hospital system. This could lead to unity across departments, creating an environment for natural collaboration.
How We Helped
Moving from an ad-hoc content management process that involved static HTML pages and very little database-driven content, the introduction of Drupal was incredibly eye-opening for the Department. Further, our design expertise brought a much-needed improvement to the site's user experience and information architecture, with a particular focus on this from the perspective of patients.
During the project on-site and in interviews with the client team, we identified two core challenges with regard to the redesign: ensuring the complex, multi-organizational branding was unified and appropriate, and that the site would work toward presenting a warm, patient-centered design experience.
If a potential patient visits the site, our client wanted them to quickly and efficiently find what they're looking for. Some are looking for the right doctor, while others are looking for a specialty or sub-specialty, others a condition, disease, or treatment. With potentially hundreds of options to serve to the user, we created an elegant, contextual way to show a clear navigation hierarchy and subsequent content without ever breaking the layout.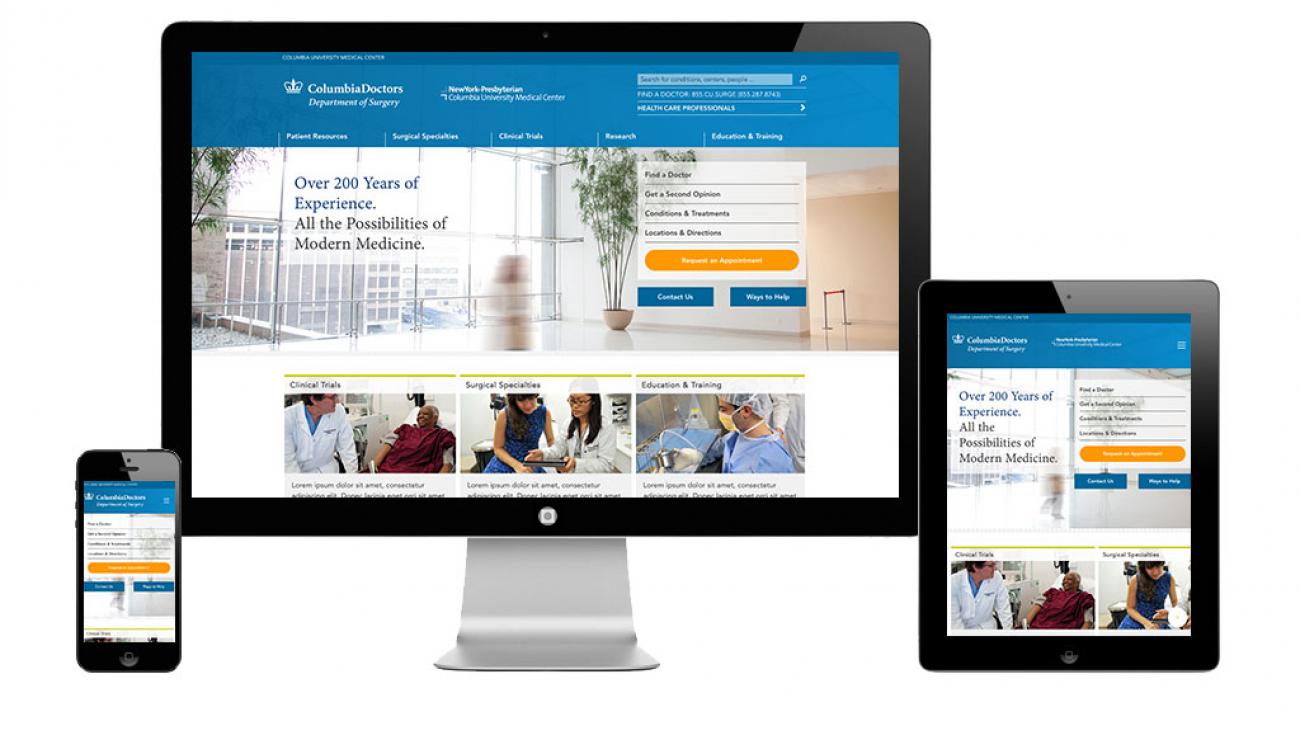 For example, top level navigation didn't need a breadcrumb treatment, but each surgical specialty, condition, disease, and treatment did, many of which were nested. This was the only way to make sense of such a breadth of information. Breaking down specialties in this way also provided doctors a way to communicate directly with potential patients.
Visitors who can quickly and easily find the right information can make more informed choices about visiting a doctor or surgeon. Our design and development work removes at least some of these barriers, and helps the patient feel less frustrated and confused. This is good for the patient, and good for our client.
The Upshot
Certainly all hospitals want to exhibit a patient-first philosophy, but when an organization like the Columbia University Department of Surgery puts it at the top of their list of project needs for their new website, it sets the tone for the entire project. We were able to provide them the tools and platform with which they can create and edit contextual content and associated navigation with little effort. This allows them to effectively manage and extend their site, freeing up time to focus on providing the right information and care for their patients.
Image Attribution: "Doctor greating patient" [sic] by Vic (hang_in_there) under Creative Commons.
Let's work together.
Have an exceptional idea? Let's talk and see how we can help.