Increasing Engagement Using Segmented Content
Visit Site
GenomeWeb is an independent news organization that provides online reporting on genomic technologies. Historically they have focused on this very narrow niche of the bio industry, and they are the leading news site in that particular field. Their site has an active community with over 200,000 users and about 20 new articles being published daily.
Over time GenomeWeb saw that the technologies they were covering were moving very quickly into healthcare and diagnostics, and they wanted to expand their news coverage into the molecular diagnostics space.
Creating a "Sister" Site
Instead of adding new content directly to the existing site, GenomeWeb wanted to create a new sister site to be located at www.360Dx.com, which would include existing diagnostic content and also new coverage that could be marketed to a broader diagnostics audience. The new site would host less technical and more business-focused content, as well as share content with the current GenomeWeb site.
Goals for the new 360Dx site and multi-headed architecture:
Content from each site should be easily accessible for both sets of audiences.
New clinical content should only live on 360Dx.
Sites should keep the same user database. If someone is a user on GenomeWeb, they should have the same level of access on the new 360 site. This means paying for a premium level of access on one site would grant users premium access on the other.
It was a very complex project. The site was already complicated to begin with.
How We Helped
To extend their business model to another site, Palantir used the Domain module suite to enable editors to assign content to both genomeweb.com and 360Dx.com. With Domain, the two sites can share some content and cross-promote articles to new audiences while having unique themes and settings.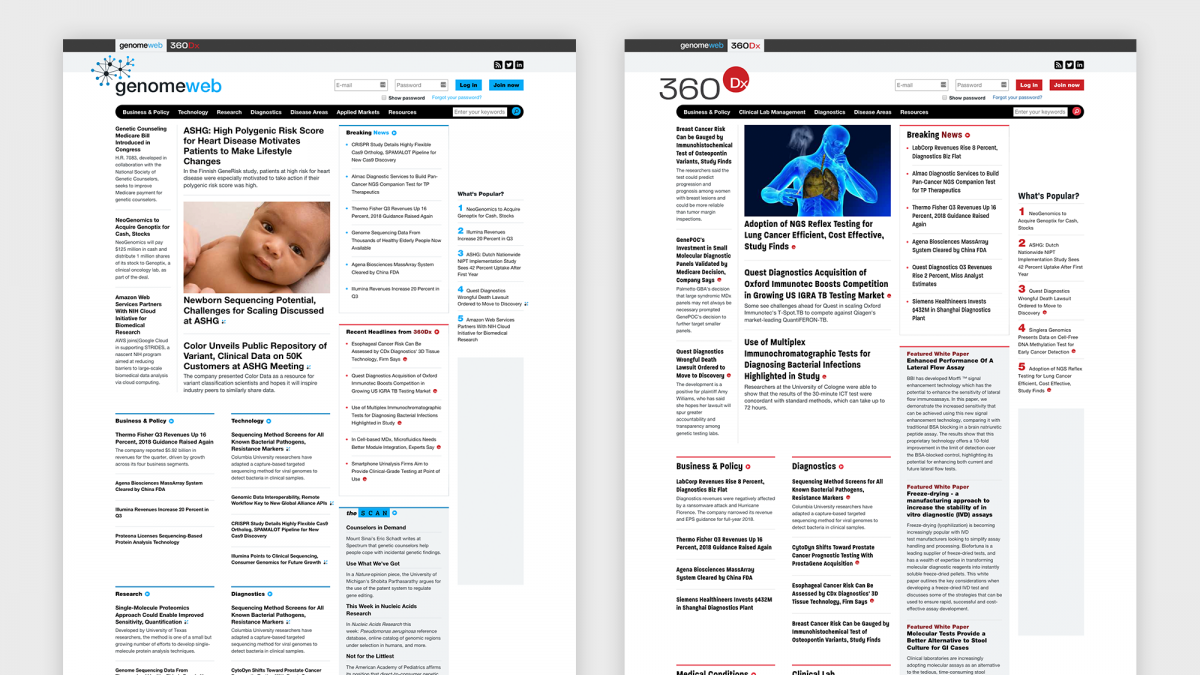 The team developed a new derivative theme for 360Dx.com and ensured that content, users, and views were assigned to the proper domain. This work included analysis of existing modules and content, the creation and testing of update scripts, and configuration of domain-specific settings for analytics, ads, and other services.
We also worked with the GenomeWeb team to integrate domains into their memberships, so that users could subscribe to email news bulletins from either or both sites independently.
The new site structure we created had very intuitive workflows, which meant the GenomeWeb team did not need extensive training to learn the new functionality. We worked to ease deployment and updates using the Features modules and through documentation of domain configurations.
The new site works as we envisioned, which doesn't always happen. The Palantir team listened to what we needed and was able to make it happen, and we are really, really happy with the results.
The Results
The new multi-headed Drupal architecture created multiple wins for GenomeWeb. There is a wealth of content between their two sites, and by using Domain Access they are able to easily manage it all in one place. It has been easy for editors to post content and decide if it should go to one site or both, and there hasn't been a huge change in their daily workflow.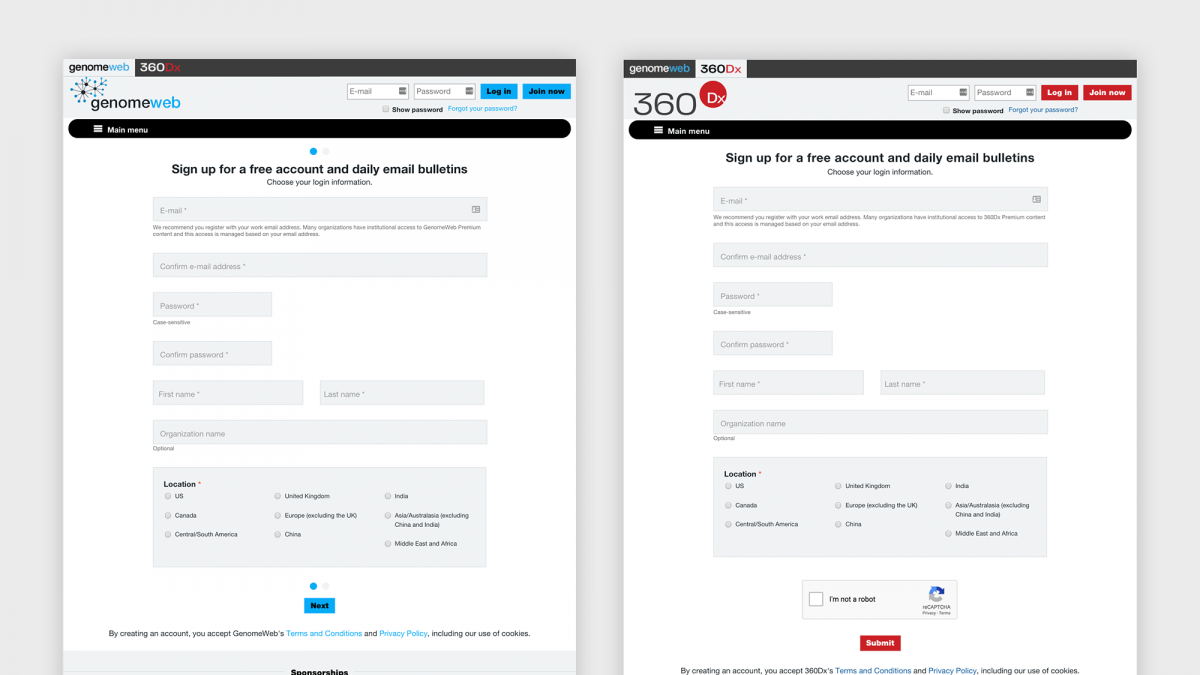 The new architecture also allows GenomeWeb to engage with their audience on a deeper level: by having different kinds of registrations for each site, GenomeWeb is able to collect different demographics and target specific segments of their audience with more data. Although the site is still new, GenomeWeb has met their initial projections, and they anticipate being able to personalize their efforts even more as more data compiles.
Let's work together.
Have an exceptional idea? Let's talk and see how we can help.