Implementing Success for Our Higher Education Client
Visit Site
Project Highlights
Consulting that helped enable our client's internal team to re-launch their flagship website.
Smoothly worked with third-party design firm
Technical consulting turned full-project
Advanced front-end development work
The best kind of consulting work results in a sound roadmap forward, with details and recommendations that will help drive the project to completion. Palantir helped achieve this for Hampshire College by providing consulting that led to development support, enabling their internal Web team to re-launch their flagship website at hampshire.edu.
Hampshire College is a liberal arts school in Amherst, Massachusetts. It's best known for its alternative curriculum, with a unique focus on portfolios instead of distribution requirements, and a reliance on narrative evaluations rather than grades or GPAs. This approach has yielded amazing results, with 89% of Hampshire alumni receiving job offers within their first year after graduation, and 65% of alumni earning advanced degrees within ten years of graduating.
And like its alternative approach to higher education, they, too, wanted an atypical design for the Hampshire College site. To this end, they engaged with a third-party design agency to redesign its site, utilizing Palantir's expertise for implementation and development.
Our experience has taught us that the best way to work with a third-party design agency is simple: closely and constantly.
Working with the design agency throughout the research, concept, wireframe, and design phases allowed the implementation and development to proceed that much smoother. It also meant we could keep tabs on the number of hours spent working on design aspects and the impact they would have when it came time to implement and ensure we were all staying on budget. We did this both by understanding the project deeply, the implementation impacts of doing certain things in the Drupal CMS, and staying true to the user stories we helped articulate and prioritize with our client stakeholders.
"Working with Palantir far exceeded my expectations, and felt like a true partnership," Amy Diehl, Director of Digital Communications at Hampshire College said. "We had a fast, ambitious timeline, and we would not have achieved our goal without their expertise in development and project management."
Once the project kicked off, we worked side-by-side with both the Hampshire College team and their design partner for ongoing scrums, collaborating on innovative solutions to challenging transitions between static designs and actual markup, implementing front-end development features, maintaining the codebase to ensure content was 1:1 between Hampshire's development environment and its production site, and always keeping an eye out for feature creep and issues that might have budget impacts.
All of this done in the course of two months, no less.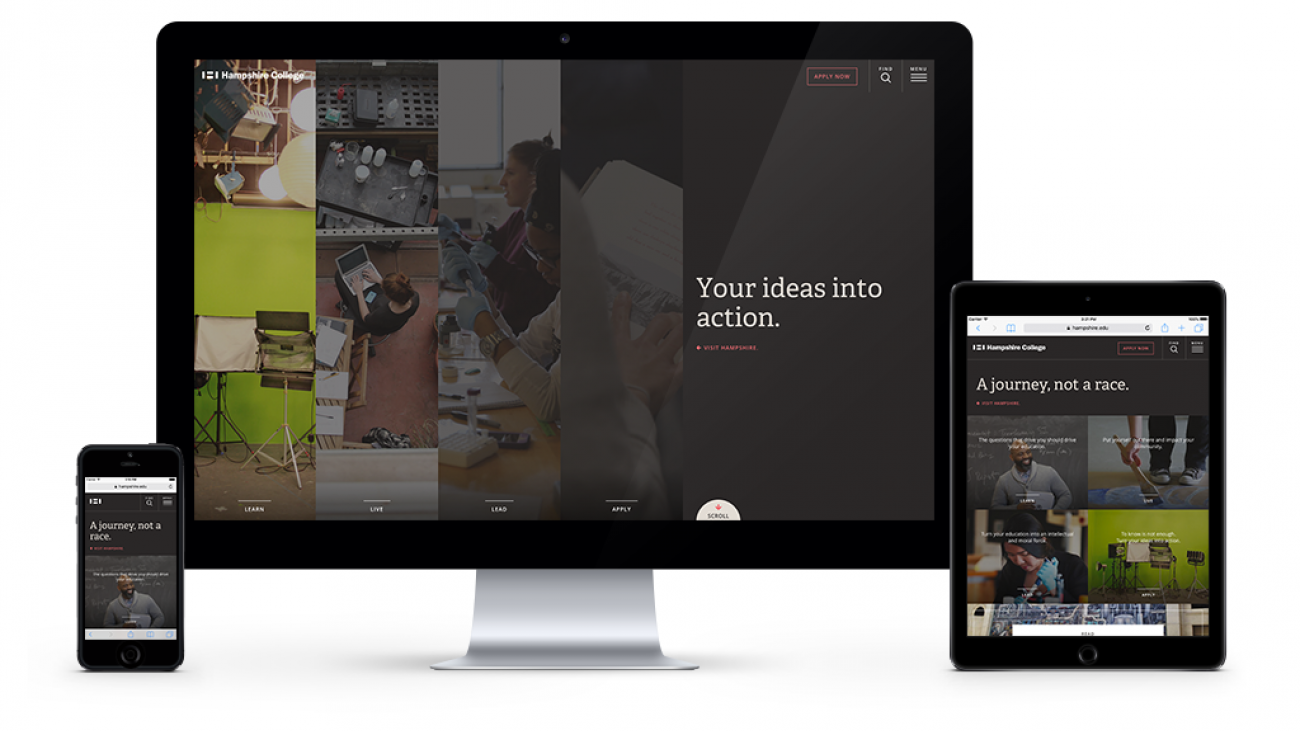 This smooth transition from design to implementation also made for an incredibly happy client. While they were a joy to work with and incredibly engaged throughout the entirety of the project, the smoothness of all project parts – considering multiple parties and a quick turnaround – made them even happier.
"They truly rose to the challenge and helped lead us through a process that hit every milestone and deadline. Considering what we set out to do, this is no small feat," Amy Diehl said, speaking about Palantir's dedication to the project.
Of course, we were able to do this because we're no stranger to working with design agencies. Palantir's internal design and development experience means that we know what works and what doesn't with regard to process and workflow, and could immediately raise budget- and timeline-impacting red flags when they arose. And even when challenges and blockers appeared mid-sprint, our agile approach made us nimble enough to pivot quickly, and get things done without incident.
All of this translates to fewer headaches for all stakeholders, no budget overages, and a better project in the end. This is what we do each and every time, for each and every client, regardless of project scope.
This project received an award in the 2016 Webby Awards.
Let's work together.
Have an exceptional idea? Let's talk and see how we can help.