Interlochen Center for the Arts
Bringing An Artistic Experience to Screens of All Sizes
Visit Site
Project Highlights
A fully responsive design system that enables visitors to seamlessly access content.
Fully responsive design system enables visitors to seamlessly access content, regardless of the screen size of their device
Provided orientation and training to in-house staff to enable them to maintain and support their site
Site administrators can easily manage and maintain content across several different subsites
Our Client
Interlochen Center for the Arts is a world-renowned Michigan-based institution for arts education located on a 1,200 acre wooded campus. It's part summer arts camp, part high school arts academy, part adult art and continuing education provider, part public radio affiliate, and part music venue for performances by world-recognized luminaries ranging from Willie Nelson to Yo-Yo Ma.
What They Needed
Palantir previously worked on Interlochen's site redesign in 2009. Interlochen now needed a responsive and mobile-friendly site which could accommodate their new and extensive photo and video archive featuring their campus and work created by their students and faculty as well as emote the feeling of the physical environment. And, with sites and content aimed at several different audiences, Interlochen's small in-house staff also needed the ability to easily and effectively manage and maintain separate domains within a unified visual and technical framework.
How We Helped
Palantir created a design system that helps visitors understand what it's like to be part of the Interlochen community. Photos and video are seamlessly integrated with the site's content to provide an immersive experience and insight into Interlochen's campus, students, and faculty.
The site's layout is fully responsive and designed to fit the screens of a wide array of devices large and small as well as future devices not on the market yet.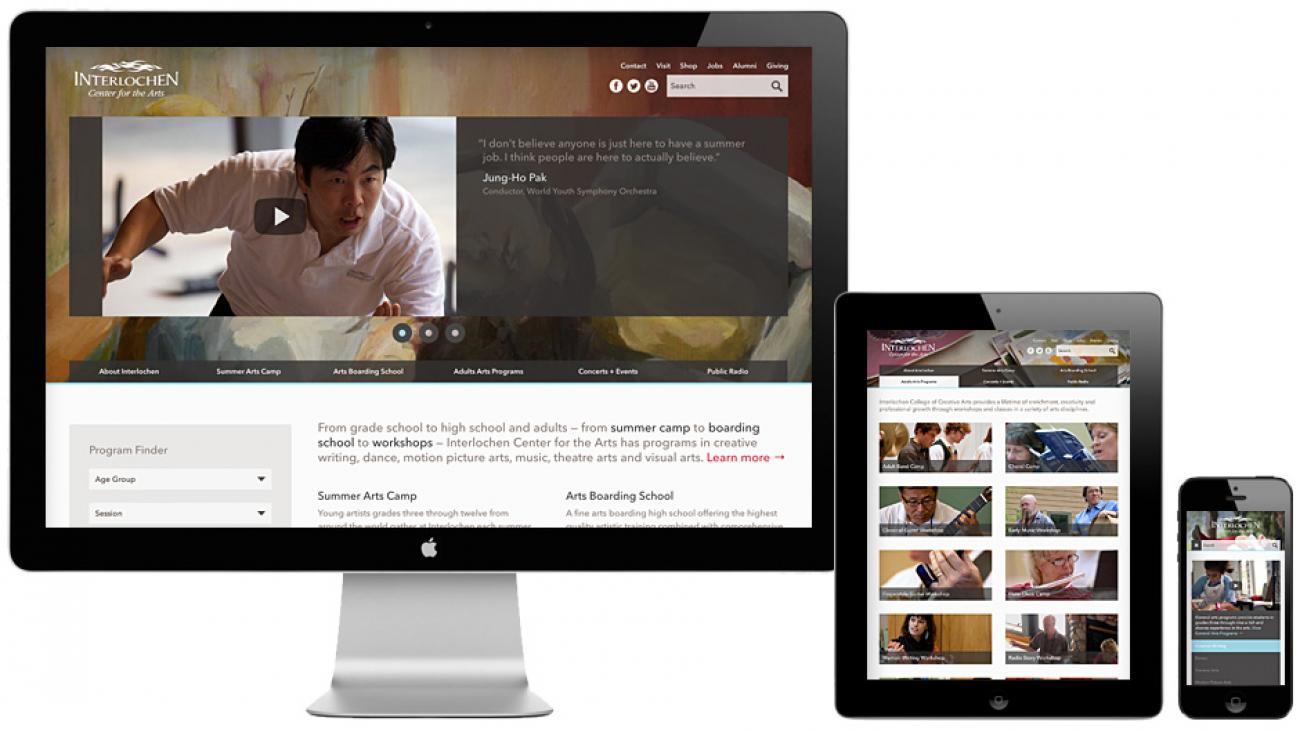 By breaking down the design into individual objects and using a scalable and modular approach to site development based on the SMACSS model, Palantir was able to quickly and easily implement the site's design using the latest standards-compliant Web technologies.
Palantir also migrated the site from Drupal 6 to Drupal 7, enabling Interlochen to take advantage of the improved capabilities, enhanced administrative interface, and added security of the latest version. Plus, Drupal 7 will continue to receive community support and updates for years to come, ensuring that Interlochen's new site is as "future-proofed" as possible. Utilizing Agile methodologies, Palantir's team was able to work alongside Interlochen's in-house team to quickly and efficiently build out the new site.
The Upshot
Interlochen's in-house team and stakeholders were fully engaged throughout the entire process, participating in development sprints and quality assurance. As a result, Interlochen now has the tools and expertise required to maintain and support their site, enabling them to save costs and focus resources on their mission. Interlochen's new site, which brings together the different aspects of the institution's personality, is a true reflection of this collaborative spirit.
Image Attribution: "Dance" by Hernán Piñera (Hernan Piñera) under Creative Commons.
Let's work together.
Have an exceptional idea? Let's talk and see how we can help.