Preserving History for Future Generations
Visit Site
Project Highlights
A Drupal implementation to provide access to thousands of historic documents never before available to the public.
Provides access to thousands of historic documents never before available to the public
Site effortlessly handled traffic from an internationally-publicized launch
Built using the latest standards-compliant Web technology
Our Client
There are few figures who have had as great an impact on the history of the last century as civil rights leader and social activist Dr. Martin Luther King, Jr. The King Center is an organization founded by Coretta Scott King after her husband's assassination in 1968, that serves as a living memorial to Dr. King and helps promote his philosophy of using nonviolent methods to address social problems and economic inequality.
The King Center houses an archive of an estimated one million historic documents, including correspondence, speeches, handwritten notes, and photographs relating to Dr. King and the Civil Rights Movement. Among these items are early drafts of famous speeches by Dr. King, letters and telegrams that he received from world leaders, and handwritten notecards where he jotted down his thoughts on race, religion, philosophy, and other topics.
In 2011, the King Center embarked on a massive effort to preserve and digitize these documents, which were previously not available to the public. The goal of this project was to enable people everywhere to learn firsthand from the wealth of knowledge stored in the King Center archives and other collections.
The King Center Imaging Project was driven by JPMorgan Chase's Technology for Social Good group, who was responsible for gathering the talent and resources necessary for such a large undertaking.
What They Needed
The King Center wanted their new site to help them better connect with a new generation of people who have been inspired by Dr. King and to provide tools to help spread awareness of his philosophy. Central to this effort was providing online access to documents that were being digitized as part of the King Center Imaging Project.
Palantir was brought into the project by New York City design agency C&G Partners, who was responsible for the site's information architecture, design, and user experience. Data from the King Center's archives was managed using the open source Alfresco platform and stored in the cloud using AT&T's Synaptic Storage as a Service, which is powered by EMC's Atmos technology.
How We Helped
Palantir used the open source Drupal content management platform to bring together the site's design, content, and functionality.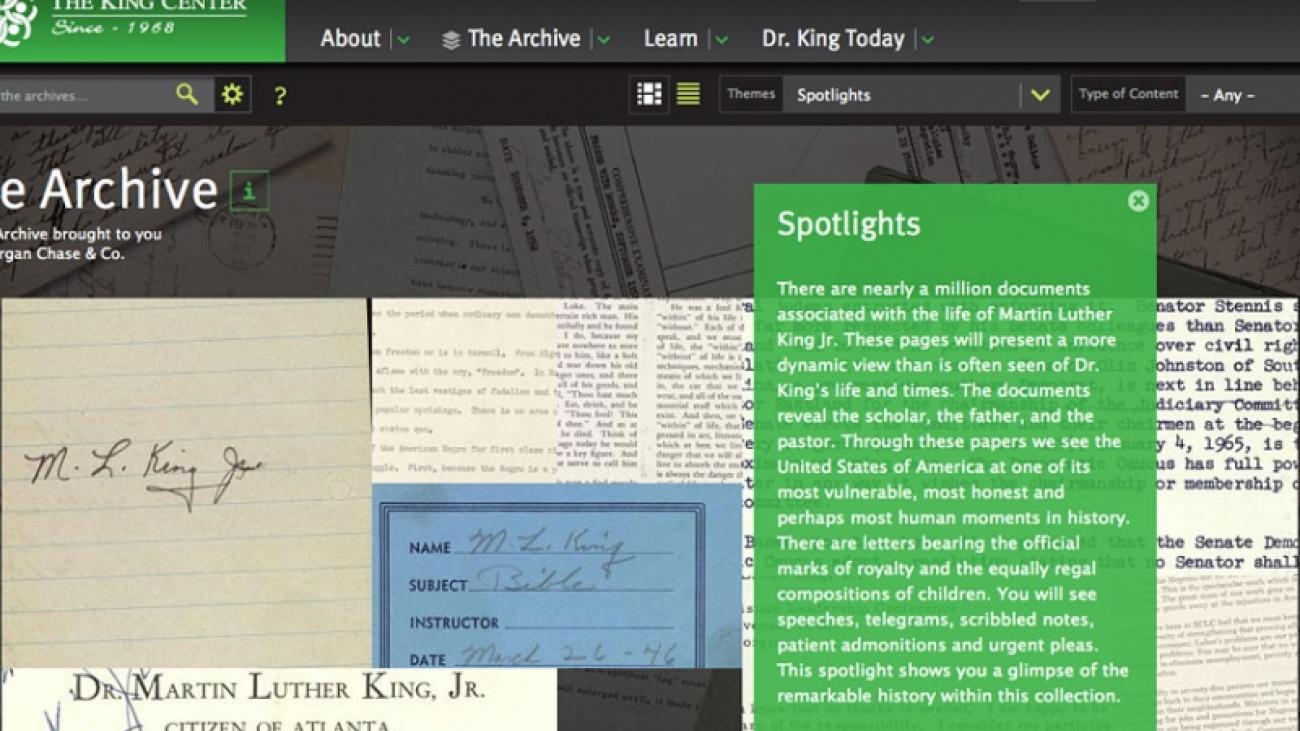 To implement C&G Partners' design, Palantir utilized the Zen theme framework for Drupal, which enabled the creation of sophisticated page layouts. Palantir leveraged the latest CSS3 techniques, the Sass stylesheet language, and the open source Compass CSS framework for its flexibility and extensibility.
To create a document viewer for the Digital Archive that was compatible with a wide variety of browsers and devices, the jQuery JavaScript library was utilized. Standard plugins were extended with custom code in order to create the site's distinct user interface. The ability to share images and documents from the archive using social media like Twitter and Facebook was implemented using standard Drupal modules.
On the backend, Drupal was configured to integrate with archive information stored in Alfresco, while pulling images and other assets directly from the Atmos cloud. Palantir worked closely with the company that implemented the Alfresco infrastructure, Micro Strategies, Inc., to accommodate ongoing changes in the production environment as content was being entered into the system.
Anticipating heavy traffic around the site's highly-publicized launch on Martin Luther King Jr. Day, Palantir recommended hosting from Acquia, a company that utilizes Amazon Web Services to provide fully-managed Drupal-optimized hosting services. Using cloud-based hosting would ensure that the site could scale quickly to accommodate an unknown amount of launch day traffic. Palantir worked with Acquia to make sure the site could handle more than 25,000 concurrent simulated users in pre-launch testing.
King Center IT Director Rick Rose recalls, "Palantir delivered on everything we requested. It was a very smooth process. When deadline crunches forced accelerated timelines, they always came through."
The Upshot
On launch day, the King Center site came through with flying colors, serving more than 175,000 unique visitors without a single hiccup. The site received a tremendous amount of launch day publicity from international news outlets such as BBC News, USA Today, ABC News, CNN, and others. The site was promoted by JPMorgan Chase through promotions at Madison Square Garden and on 16,000 ATMs nationwide.
The site broadens public awareness of Dr. King's philosophy and promotes a deeper understanding of his work. It has already become an invaluable resource for educators, who now have a place where they can point students for primary source materials on Dr. King and the Civil Rights Movement. Future plans for the site include providing additional information about people, places, and topics that will provide historical context material in the archive, as well as a "Share Your Dream" feature allowing visitors to post their dreams to the world.
All of this is made possible through the use of open source technology. As Rose puts it, "We are excited to have our site built on Drupal. Drupal is driven and developed by the community, consistent with the ideals of The King Center."
With every project at Palantir, one of our goals is to help enable people to share information in new and exciting ways. The King Center's new site not only does this but it also provides access to information that few people have seen before.
Image Attribution: "Martin Luther King Jr. Memorial" by InSapphoWeTrust under Creative Commons.
Let's work together.
Have an exceptional idea? Let's talk and see how we can help.