Leading National Pediatric Hospital
Providing Answers for Families Through Strategy, Design, and Development
Project Highlights
An end-to-end site redesign that beautifully represents our client's message and mission.
End-to-end project beautifully representing client's message and mission
Massive amount of data wrangling, seamless experience for end-user
Empowered and trained an internal team to maintain and expand its site
Our Client
One of the oldest, most respected pediatric hospitals in the United States, if not the world, our client is a family-centered organization that consistently ranks among the top pediatric hospitals both overall and in a variety of specialties. Quality resonates in everything this hospital does; in the care it provides, its facilities, research, education, and, of course, its online presence.
What They Needed
First and foremost, they needed to ensure all site visitors felt as comfortable and safe as possible when looking for the information they need. After all, if you're visiting a pediatric hospital's website, chances are it's not for the best of reasons. A focus on providing comfort and hope would guide all decisions made for this project.
Imagine your child is diagnosed with a serious condition. Like any parent in this situation you lie awake in the middle of the night with no shortage of questions. When the unthinkable happens and your child is very sick, who do you trust? Where do you retrieve the information you need? What do you do next? Our client wanted to break down the barriers for parents to get the right information fast, and quell their anxiety as quickly as possible.
To this end, any content on the site, particularly information yielded from a search, needed to work flawlessly, quickly, and accurately. In this way, the design, functionality, and content of the site needed to reflect the same level of quality and incredible focus on delivering the best possible patient experience at this pediatric hospital.
This would be no small feat, however, since the data in question was some 10,000 pages of inter-related content maintained and often written by the hospital's team of content creators, the results of which needed to be weighted based on the query. For example, each relevant physician would need to appear when searching for a specific condition, not to mention on pages for related centers, programs, and so on, regardless of the facet by which the user chose to search.
The client also wanted a completely redesigned, responsive site design that not only reflected the organization's proud history and brand equity, but one that was also scalable and extensible. As research showed mobile traffic was already above 40% on the site, and since the core user—parents looking for answers—would likely be searching on their smartphones and tablets, our mobile-first approach to design and user experience was particularly important.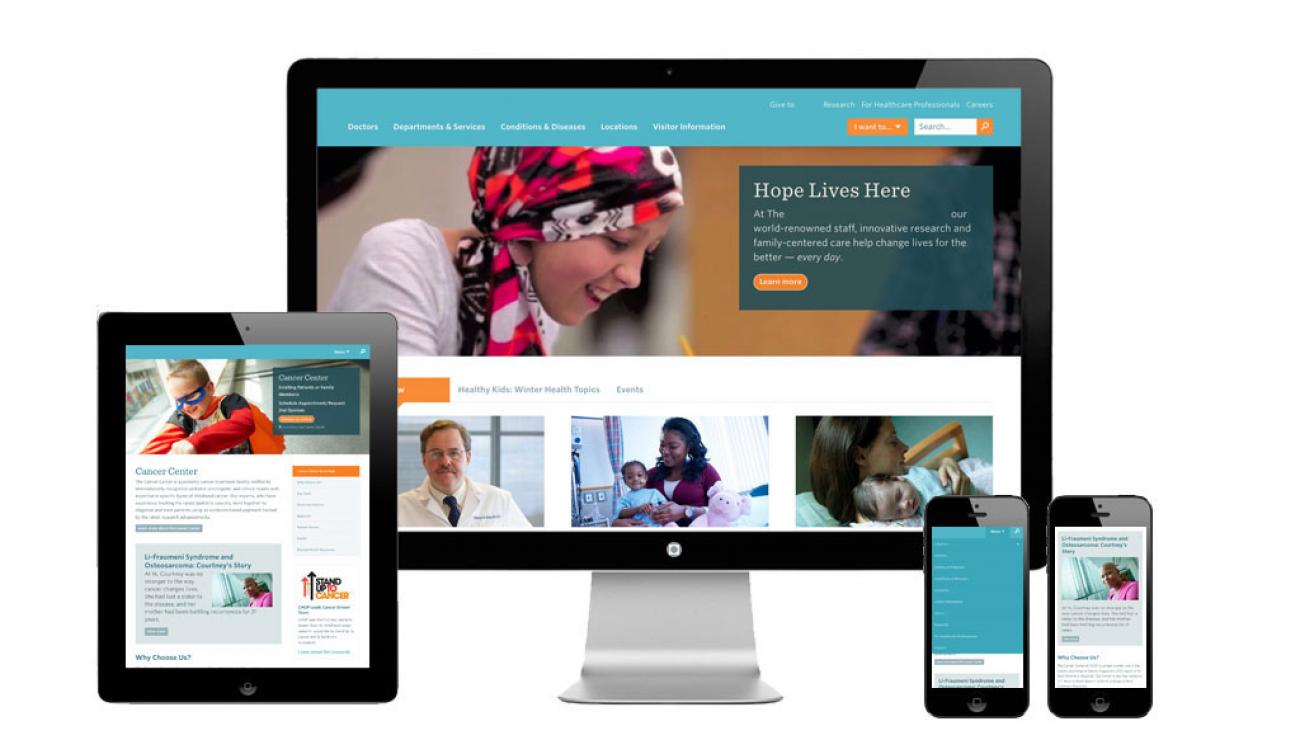 This end-to-end project would also include migrating the site to Drupal 7 since the previous Content Management System created a number of bottlenecks for the client that Drupal—coupled with our design object systems—readily solved. We would also provide extensive training for the client team on the Drupal platform during this transition.
All things considered, our client wanted to further establish itself as the definitive online resource in the nation—if not the world—for pediatric health.
How We Helped
Through the Discovery and Definition phase on-site, and thanks to the an incredible amount of research and user data provided by the client, we determined that the work they needed lived in four main areas: strategy, design, Agile development, and training, all guided by its mission.
The entire project was not only informed by the content strategy and taxonomy by Karen McGrane and her team at Bond Art + Science but by the Palantir team as well. With all of this research in mind, we set out to capture the innovation and leader status of this pediatric hospital in a warm and welcoming visual presentation. Through a thorough concept and mock-up process, we created a clean, modern design, with a clear hierarchy and completely integrated with the development work we performed. The objectives were to:
Simplify the information architecture of the site, and ensure its full integration with the overall design and backend framework
Elevate the site's online presentation to more closely mirror our client's premier reputation
Work with developers closely to make search faster, easier, and more manageable for the end user, and also incorporate appropriate IA, UX, and design standards
Showcase provocative, responsive HTML5 video that spoke to the organization's message of hope and resonated with site visitors
To that end, we created a living style guide for the client which contained all of the objects, elements, and styles to ensure a long, cohesive life for the site. We also created a design system of modular components that could be implemented and extended as necessary, and worked closely with the client design team to ensure their needs were being met.
For development, the client wanted to be integrally involved, and the collaborative spirit of the project made ongoing work easier. For search specifically, the sheer amount of data and data types was staggering: conditions, doctors, locations, and many other facets for which could be searched; some 10,000 pieces of content. The results not only needed to be speedy, they also needed to be relevant and accurate, easy to understand, and relative to the path which you took to get there. After all, the entire strategy was intended quell anxiety; not add to it through excess complexity.
We used Apache Solr to configure a robust search environment where the results would be simultaneously accurate, immediate, and dynamic. In addition, since the data had a myriad of facets and associated fields, a variety of filters could be applied to further tailor the results for the user. For example, a user could specifically search for conditions, doctors, locations, and eventually insurance and other such important categories. The technological heavy-lifting would be completely transparent to the end-user. It would simply work, and work well.
By pursuing a fully-integrated strategy, design, and development approach, we were able to remain focused on our client's core mission and ensure the user's experience was absolutely paramount.
All project teams—both in development, design, and the client—worked incredibly well together throughout the project. The collaborative environment made the training work run smoothly as well. The project was not just about building a site and then handing it off to the client, it was about training a team to take over all aspects of site; to teach the internal client team what we know and how we do it, so they could truly own their site and extend and improve upon it for years to come.
The Upshot
This pediatric hospital's new site is the result of a collaborative, integrated design and development process, guided by both a clear mission and user research. It features a world-class, responsive design, built solidly upon a living style guide and extendable with design objects. It functions impeccably, providing fast, accurate results for visitors on any device they choose. Because we were able to work so closely alongside our client as true partners throughout the full lifecycle of the project, their internal developers and designers can now truly own their site.
This project was recognized as an honoree in the 2015 Webby Awards.
Let's work together.
Have an exceptional idea? Let's talk and see how we can help.