Analyzing Design for a Strong Path Forward
Visit Site
Highlights
Analysis of existing design against business goals to define recommendations for a redesign.
Analysis of existing design against business goals  

Defined recommendations for a future redesign
Perkins+Will is an interdisciplinary, research-based architecture and design firm established in 1935. Founded on the belief that design has the power to transform lives and enhance communities, they collaborate with clients all over the world to create healthy, sustainable places in which to live, learn, work, play, and heal.
Perkins+Will was considering redesigning their Drupal website. They first wanted to take a step back and evaluate if the current site design was bringing in the desired amount of leads. Based on their time and resources, their leadership team was not ready to jump into a full redesign just yet, and they wanted to make sure they were moving forward with a strategic plan whenever they were ready to begin.
A big question for Perkins + Will was whether Drupal continued to be a good fit for them. How much of an investment were they facing if they continued with Drupal, and how could they best maximize that investment? What additional functionality might they expect if they made that investment? What options did they have that might provide some kind of hybrid approach, like a disconnected Drupal site that would allow them to utilize their our own internal resources for HTML and CSS while not making the (painful) move away from Drupal on the backend?
Perkins+Will was interested in knowing what Palantir might provide in the way of overall project services relating to a Drupal 8 upgrade. So to get to a clearer vision for the future, we completed a design audit — a discovery phase of work that resulted in defined recommendations for how to begin on the design phase of the project.
For a client with an established website and brand, a design audit comprises four major facets.
1. Validating the current site implementation against brand guidelines
Over time, inconsistencies can develop, especially if multiple editors create content for your site. Images may no longer conform to design standards. Colors and logos may be used improperly. Periodic audits looking for such deviations should be a standard part of online marketing efforts.
2. Examining the impact of design on user engagement
By looking at site analytics and the stated business goals of a site, our design team can assess what impact, if any, the current site design hinders user engagement. Typically, poor information architecture and navigation lead users to dead-ends or cause users to overlook the very information they came to the site for.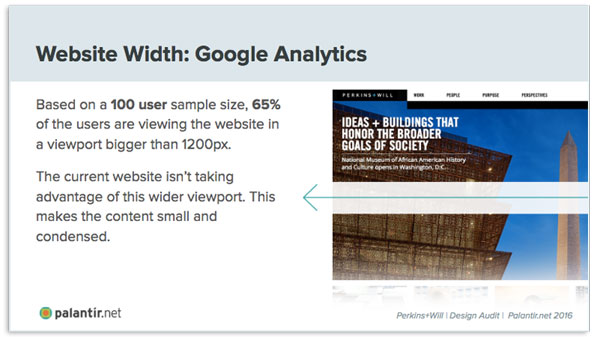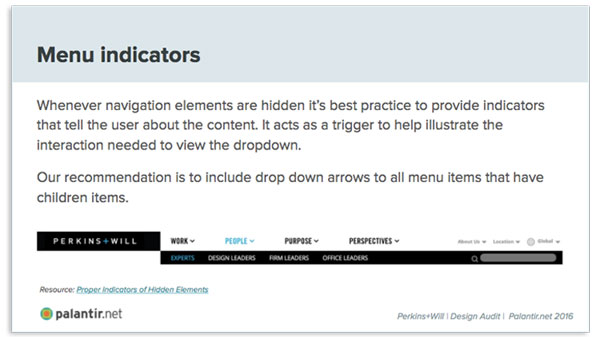 3. Auditing the design against modern standards
Many sites show their age in ways that lead to consumer distrust. Lack of support for mobile devices and accessibility standards are leading causes of user frustration. Violating common design patterns and industry standards can also lead to confusion. Caption: A summary of issues and trends regarding menu navigation on mobile devices.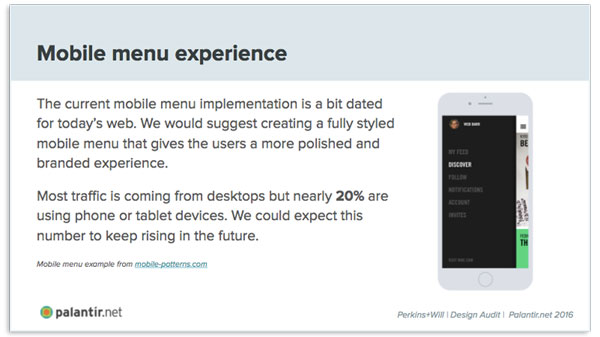 4. Evaluating the capabilities of the CMS
Using a Content Management System (CMS) requires a modular approach to design and an understanding of any structural changes that may be required in order to make design changes. In a flexible, template-driven system such as Drupal or WordPress, what may seem like cosmetic design changes can have deeper technical implications.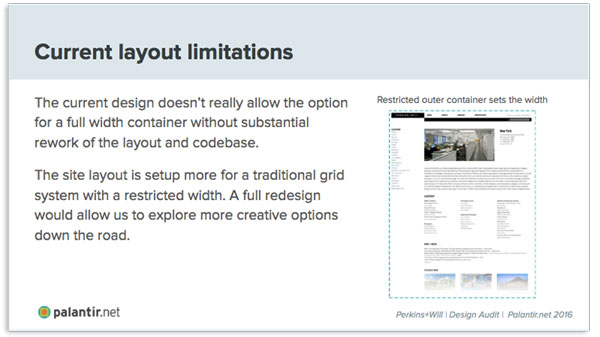 Next Steps
With the packaged results of the design audit, the Perkins+Will team had all of the information they needed to discuss next steps with their leadership team. We're looking forward to beginning the next phase of the project!
Image Attribution: "Photograph of the East Tower of Rush University Medical Center in Chicago, IL" by Nathan Hicks under Creative Commons.
Let's work together.
Have an exceptional idea? Let's talk and see how we can help.