University of California Berkeley Extension
Streamlined Enrollment to Nurture Students in Their Journeys
Visit Site
UC Berkeley Extension (Extension) is the continuing education branch of the University of California Berkeley. Extension offers more than 2,000 courses each year, including online courses, as well as more than 75 professional certificates and specialized programs of study.
Extension knew their site was significantly behind what they needed students' user experience to be, and they needed assistance in simplifying enrollment. While preparing for a redesign of their website, Extension approached Palantir as a subject matter expert on website redesign who could also help to user test their new information architecture and design. Additionally, Palantir was to conduct user research in order to recommend revisions that would help them improve enrollment conversions on future iterations of the site. The ultimate goal was to make it easier for students to continue their educational journey at Extension.
Reducing The Cost of Student Enrollment
UC Berkeley Extension has over 40,000 student enrollments a year. Previous to their engagement with Palantir, it took 127 web sessions between the first visit and enrollment.
In the first three months after implementing Palantir's recommendations, that number decreased 33% to only 82.5 web sessions needed to secure an enrollment. By decreasing this number, Extension was able to capture more revenue per web session, increasing the average from $6.08 to $10.68 per session.
Here's How We Did It
Because Extension had already done significant market research, we quickly nailed down the key goals of the project and how we would define success.
We identified a two-prong approach:
Validate their recent site redesign and new information architecture through virtual and in-person user testing; and
Conduct user research, and create and validate wireframes to support their execution of a future redesign.
Palantir came in as the subject matter experts on the re-design of our multi-million dollar e-commerce web site. They exceeded expectations on every measure. We then re-hired them for a subsequent project. We recommend Palantir highly.
Our Methods
In order to move the needle on business outcomes, methods must be backed with real, actionable insights and data. For Extension, this meant developing a deep understanding of their users' behavior and motivations.
First, we defined key audience segments and generated personas and user journeys. Then, we validated the way that each segment interacts with the site through menu testing and in-person usability testing. This user research gave us direct and applicable insights which established the foundation for what kinds of features prospective students need and expect from the site.
We continued our exploration of audience needs by conducting a competitive analysis of six competitor sites in the higher, continuing, and online education space. Outcomes of this research revealed that students need more cues before they make a decision about enrolling in a course and before they take a deeper dive into a program or course page.
Questions like: "Is the course open or closed?" "Is there a waitlist?" and "Is it at a location convenient to me?" linger in a student's mind.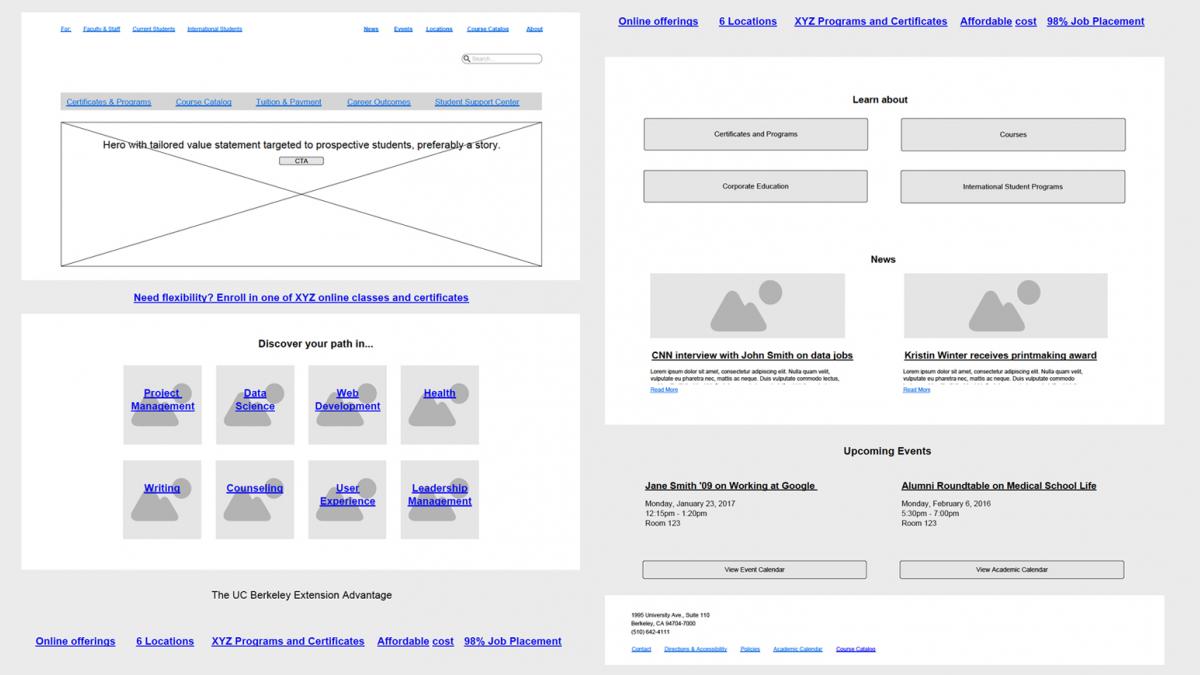 Based on the competitive analysis, audience definition, in-person usability testing, and menu testing, Palantir developed a set of wireframes to support Extension's upcoming redesign.
These outlined many of the key priorities that surfaced throughout the project, such as:
Simplifying the Student Services landing page Surfacing content that supports the offerings of the courses and programs (e.g. instructor expertise and alumni success)
Making information about career outcomes more prominent
But the testing didn't stop there. Once wireframes were created, we validated them further by conducting a final set of first-click tests, designed to help identify and close gaps between the designs and what the audience members wanted to do on the site.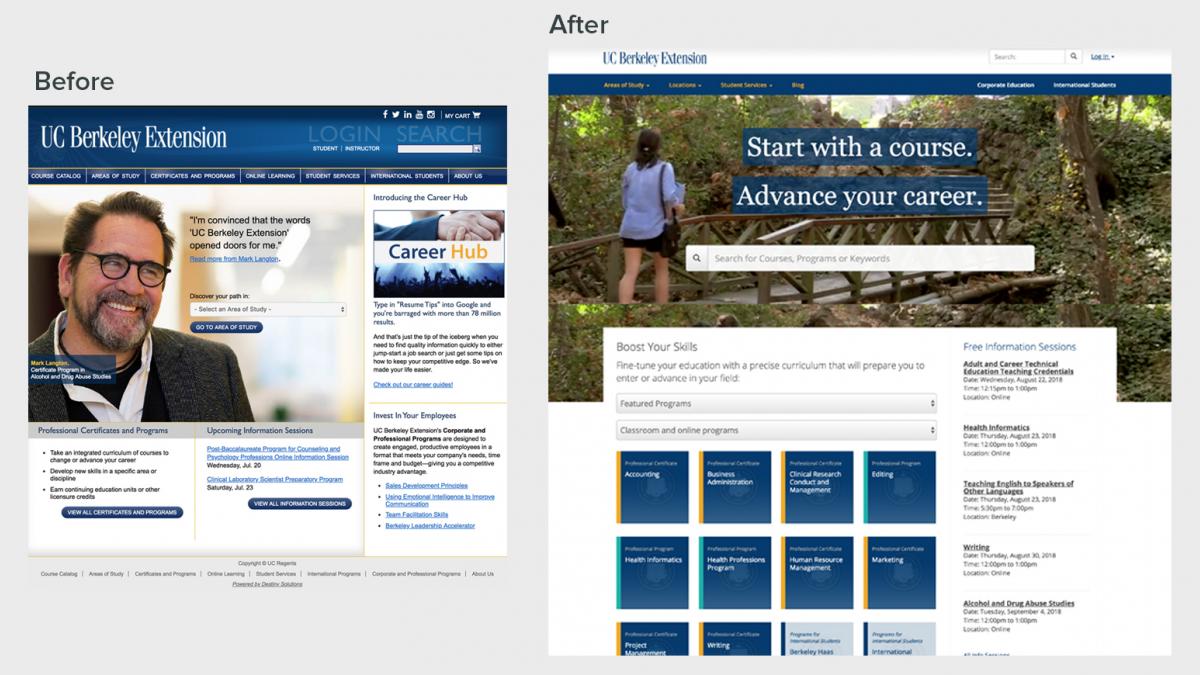 The strategy work we did allowed Extension to gain a better sense of the needs and pain points of their audience and revealed a handful of key points for them to address:
The Extension site needed a more extensive faceted search.
Extension needed to work with the institution to reposition and rebrand the Student Services department as a key advocate for incoming, current and returning students.
Extension needed to modify its messaging to better surface the qualities of its curriculum, flexibility and affordability, along with instructor expertise so that prospective students could quickly get a sense of the value of the education and academic offerings.
Palantir helped to shape the future evolution of the Extension website by equipping the UC Berkeley team with a set of user experience tools and methods they continue to utilize. The user-research compiled throughout the engagement continues to focus an intention in their design as they undertake new website projects, always with the student journey top of mind.
As our advice is continuously implemented, the results of Palantir's work are clear: fewer dropped sessions, fewer questions and calls to the Registrar's office about things that couldn't before be found on the website, and a 75% increase in revenue per session.
Let's work together.
Have an exceptional idea? Let's talk and see how we can help.