Data-Driven Website Personas: A Cost-Effective Approach
User research is a key element in defining your audience, but can it be done on a budget? We think so.
A successful website isn't just about the code. It's about creating an experience that addresses the needs and wants of real people looking for useful information. It's also about fulfilling someone's desire to take action: sign-up, register, contact, enroll or even buy.
Today I'm going to discuss how you can develop authentic personas using an affordable approach that can help lead to a successful website experience for those who visit your site.
Personas and Understanding People Who Visit Your Website
So how do you know what "Real Person No. 1" wants to do on yournewwebsite.com? Simply guessing may feel like grasping at straws. Thinking you can dictate what "Real Person No. 1" wants based on what you want is a recipe for poor user - experience. In other words, this can lead to a negative experience for the people who visit your site. It may also translate into a website that doesn't help its visitors take action, which can yield a low return on investment.
The solution? Create personas and let them tell you what real people who visit your site want. In other words, a website persona is a hypothetical site visitor whose background, preferences and needs can inform how different website audiences might engage or interact with a website.
The Ideal Persona: a Lot of Work!
A couple of months ago, my colleague Senior Web Designer Carl Martens underscored the importance of personas in defining a website audience to build a strong project foundation:
"Personas can affect navigation, interactions, functionality and even the visual design. In short, personas greatly influence decisions on many facets of a web project," Carl wrote.
Typically, we develop personas after conducting a series of interviews with stakeholders and site visitors. This takes time and money to do properly. User research is a part of user experience (UX) that is crucial for successful audience definition and visitor needs assessment, yet is often cut from projects because of budget or time constraints.
When user research is not part of your budget, personas are often based on the impressions of high-level stakeholders, data produced by clients and site analytics, which may vary in reliability. Without quotes or survey data from actual site visitors, these audience snapshots may seem too generalized and simply inauthentic.
Personas on a Budget
Your budget is tight. Project time constraints won't accommodate user interviews or surveys.
These all-too-common project parameters can make the development of website personas – a key part of audience definition – quite challenging. But there's an alternative approach that many people don't consider: Using data that is publicly available and authoritative secondary sources to enhance the authenticity of personas and help produce audience segment profiles that feature persona traits based on real-world behaviors and demographic data.
Publicly Available Data Sources
Media sources (e.g. Chicago Tribune, New York Times, Wall Street Journal, Washington Post, LA Times, etc.)
Industry publications that highlight consumer data
What to Look For
Device use. Statistics on device use or Internet access that span different demographics.
Industry or field trends. Statistics that reflect the current state of affairs or recent changes in policy or funding. These can reveal pain points and challenges site visitors face.
In-person interviews. Articles that feature quotes from individuals within the industry who are viewed highly by their colleagues. Articles that include stories from people who candidly share their challenges, goals and aspirations as they relate to the industry.
Relationships. Publications that reflect collaboration and connections between organizations and people.
Data-Driven Personas in Action
Why Data?
Data is a critical asset in characterizing the audience for a website. Developing personas that resemble real people can help validate the behavior and goals of site visitors and ensure that website features are tailored to the actual needs of the audience. Through "Rachel Walters," a sample persona below, I illustrate the ways in which data and authoritative content can be integrated into persona traits.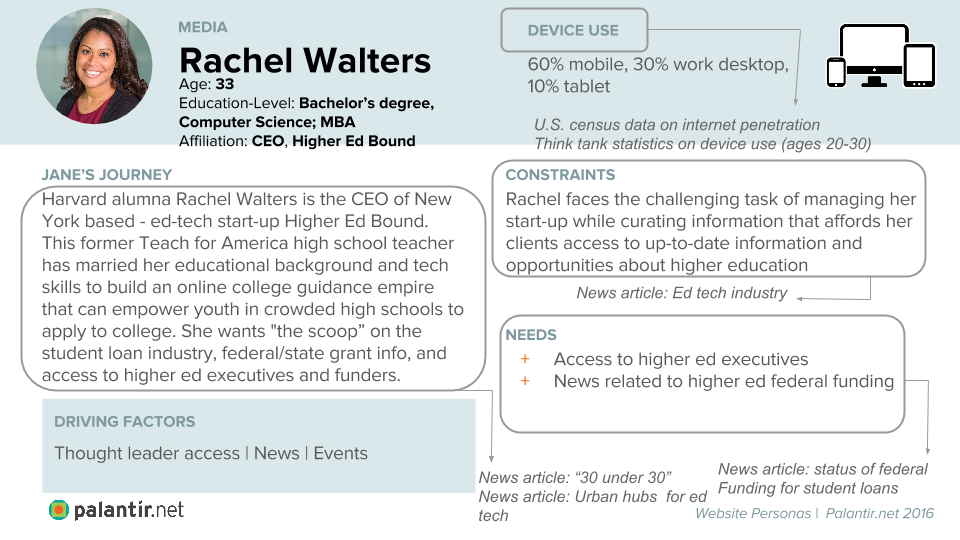 Device Use
The U.S. Census Bureau and non-profit organizations such as Pew Research Center provide free data and analysis on Internet and device use. Pew Research Center also covers education, politics and many other areas. Utilizing device use statistics for thirty-something-year-old women in the United States can substantiate Rachel Walters' profile (featured above) and validate or disprove her 10 percent tablet usage. This is just one way in which data can give persona characteristics a boost.
Media Sources
Curating and drawing upon authoritative media sources that feature current events, recent interviews or policy changes can help solidify assumptions related to persona background information, needs, and constraints. It may reveal organizational and industry relationships, such as Teach for America and the Ed Tech industry (outlined in Rachel Walters' profile). An article focusing on the "30 under 30" within a particular field might provide quotes from potential site visitors that may inform persona development. A report produced by a higher education think tank highlighting funding cuts might reveal pain points experienced by site visitors that both transcend and deeply connect to technology.
So What Next?
As a first step, we can borrow directly from and and build-upon Carl's recommendations on "Developing Your Personas." In place of user interviews and surveys, we can conduct research using publicly available data, authoritative media sources and industry publications:
Speak with stakeholders who manage the site.
Listen; don't dominate the conversation.
Use open-ended questions; you want stakeholders to do the majority of the talking.
Talk to the customer-support representatives.
Conduct research using data and media sources that are publicly available.
Use empathy mapping to fill in the gaps about the visitors of the site.
Use site analytics to extend and validate your research.
Once You've Done Your Research
Now it's time to tackle website personas:
Identify patterns and similarities across site visitors.
Develop persona cards, like the one listed above. This persona template was designed by my colleague, Senior Web Designer, Ashley Cyborski.
Limit the number of personas so that the audience isn't fragmented.
Collaborate with stakeholders on validation.
Once you begin to draft personas, create a work cited page that includes citations to provide a future point of reference for the sources that were utilized. This will also help to validate the audience segments that the personas seek to capture.
Enrich and Evolve Your Personas
Personas that incorporate factual background information and provide credible scenarios overcome the lack of data that can be acquired through surveys or user interviews with site visitors. These data-driven personas can define audience segments in a way that still generates design and development outcomes that are oriented toward site visitor needs.
Sources that enrich personas include:
Census demographic data
Internet statistics
News articles
Field or industry statistics (e.g. millennial higher education trends)
Facts about the local economy
In Sum
When defining the audience for your website, you should always aim to do user research. Learning about the needs and behaviors of actual site visitors by speaking to them or engaging with them through surveys can ensure that both the vision and technical build of the project align closely with the goals and reality of those who visit your site. That said, if user research is not an option, there are many alternative resources that are available to help you make more informed choices on behalf of those who visit your site.
Stay connected with the latest news on web strategy, design, and development.
Let's work together.
Have an exceptional idea? Let's talk and see how we can help.