Drupal Association Retrospective
Tiffany Farriss' reflection on her time on the Drupal Association Board of Directors.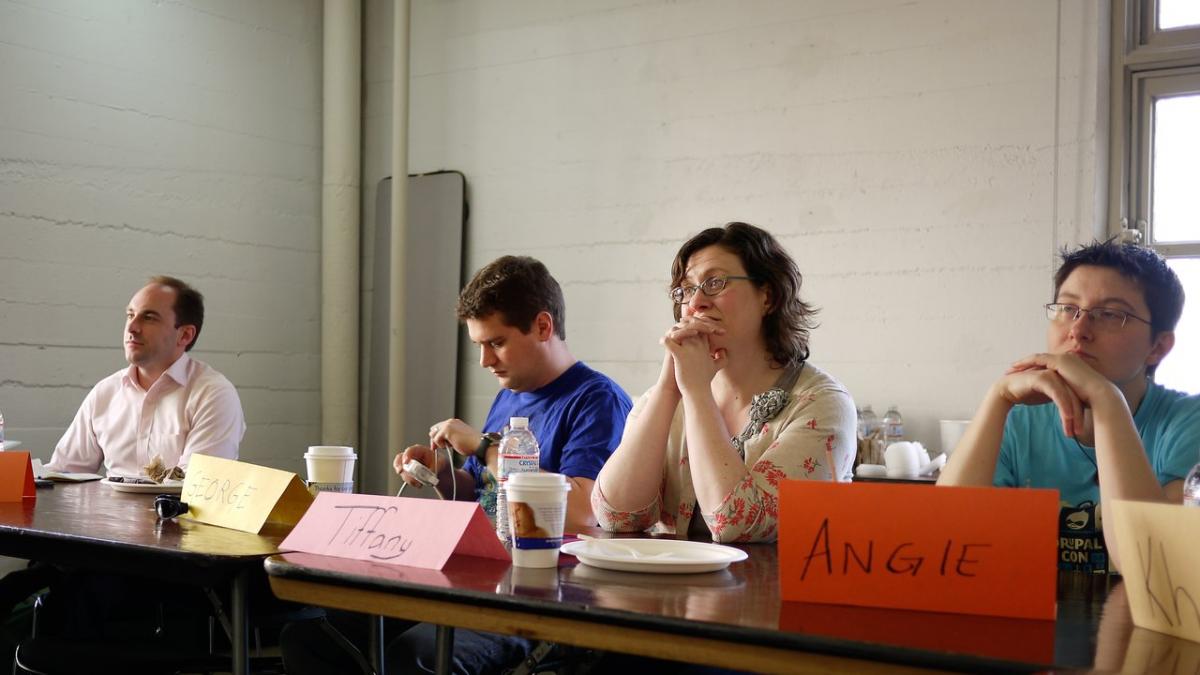 With its public announcement of the incoming class of directors, the Drupal Association (DA) officially marked the end of my nine years of service to the Board. Considering that I've only just celebrated my 11th "Drupalversary", it was certainly a bittersweet moment for me as that board has been a huge part of my Drupal life for so long.
When I look back at my tenure, I'm gobsmacked at how far we've come as an organization. When I joined the board in 2009, our board meetings were either at DrupalCon or in IRC (only), there was no budget, every expenditure required a board vote, and the board served as de-facto staff elected to fulfill a specific function.
Those were scrappy days, when we punched above our weight, buoyed by a communal sense of responsibility and connected by our passion for Drupal. It seemed like everyone you knew, everyone in "The Community" contributed what they could, as much as they could. The barriers to entry were low. It was easy to get involved and find your place and your voice. That bonhomie combined with the mission and reward of building something bigger than yourself, bigger even than your own company, was exhilarating.
As a project and as an organization, those early efforts paid off and we grew pretty fast, far beyond what any group of motivated volunteers could support and sustain long-term. It was clear that for Drupal to reach its potential, we needed to hire staff and forge a path forward that professionalized both the DA and its channels: DrupalCon and Drupal.org.
While there is still much work ahead for the DA, it is leaps and bounds ahead of where it started. The DA has matured into a $5 million non-profit with audited financial reports and forecasts, a staff, and an articulated mission, vision and values. Far from its days as an organization founded to be a bank account so that the servers wouldn't melt down, the Drupal Association now unites a community to build and promote the Drupal project.
The challenge and magnitude of this mission is inspiring, just as the promise of Drupal continues to inspire many of us who contribute to the project. However, it's also important to recognize that as the project has grown and matured over the years, the members of our community and their corresponding motivations have also expanded.
"The Community"
Drupal is deeply rooted in "The Community." Over the years, the DA board spent a fair amount of time seeking to understand who the community is and what the organization's role is within it. While that answer is (and indeed should be) ever-evolving, one important realization I've made is that what we call "community" is actually an amalgam of lots of sub-communities.
At Drupal's core, there is its contributor community: those who write and review code and documentation. As we've grown, this group has expanded in role to include leading, managing, and mentoring others who do so as well. Depending on how long someone has been working in Drupal, this community may be the universe they think of when it comes to Drupal, but there are many more:
Local communities and communities of interest, who do an invaluable job organizing and hosting meetups and camps, welcoming and onboarding new people into the project.
The Drupal business ecosystem, which is often recognized for contributing financial, code, and logistical support, but they are also on the forefront selling and marketing Drupal and expanding its reach into new sectors and organizations and creating an essential feedback loop with users.
Customers, who drive the demand for innovative features and talent, creating jobs, thorny technical challenges and momentum.
End users, who outnumber the rest of the communities combined and use Drupal day-to-day in their jobs. Their experience influences adoption and retention. Their needs and their ideas spur innovation.
Educators, who are training and inspiring the next generation of Drupal talent. A successful Drupal needs to represent the perspectives, contributions, and resources of all of its communities.
The Past, Present, and Future Role of the DA
This is where the Drupal Association comes in. As it has matured, the Drupal Association has begun to operate as a convener, a connector and a platform. The DA is a strategic partner for Drupal and its communities, identifying and matching various needs and opportunities together. It facilitates interactions, relationships and collaborations that help those of us within Drupal grow as a project, as companies, teams and organizations and as people.
Especially since its incorporation as a US-based nonprofit, the DA has worked to expand Drupal's reach by building relationships with all the people who contribute to Drupal's success. It has invested in forging new relationships with decision-makers such as CMOs, CIOs and CTOs and influencers while maintaining the support expected by established contributors and organizers. The Association has been listening to feedback and thinking strategically about the trends they are seeing within our own ecosystem and beyond.
There are gaps in governance and opportunities for growth beyond Europe and North America. Drupal has begun to scale project infrastructure and process. There is also some upcoming focus on leadership development and culture that is has been long in development and is very exciting. Drupal is growing and changing and the Drupal Association is growing and adapting to meet new challenges.
Change is not always easy, but here's what I know: successful change management always comes down to people and that's what gives me hope. Every single person at the DA, especially Megan Sanicki and her amazing team, operates with a deep care for the people in Drupal and a fierce commitment to the project. The DA is curious about new opportunities and trends, committed to learning and open to evolving however it can best and most uniquely serve Drupal.
Coming from the DA's humble and very practical beginnings, there is so much to celebrate and yet still so much to learn and do as they tackle opportunities ahead. That work isn't finished. It never is. The best part is that the DA doesn't have to do any of this alone (nor could it). Drupal's history has taught us to trust that we get help when we ask. The people of Drupal are generous with their time, talent and treasure and the DA is in very good hands.
It has been very hard to step away. Being a part of the Drupal Association leadership for so long has been one of the most rewarding experiences of my career and, to be honest, I would have gladly served again were it allowed. I already miss the work and my colleagues.
Thank you to everyone in the Drupal Association, past and present. Thank you especially to Dries for creating something so special and choosing to share it with the world. I will be forever grateful to have been able to contribute my talents in service to such a fantastic community with some truly amazing people. I wish all the best to Adam, Baddy, Ingo, Michel, Audra and George as they start their adventure. I look forward to seeing what amazing things the Drupal Association does next!
image credit: Dries Buytaert, https://dri.es/album/drupalcon-san-francisco-2010/
Stay connected with the latest news on web strategy, design, and development.
Let's work together.
Have an exceptional idea? Let's talk and see how we can help.