Stanford Environmental Health & Safety
Distilling thousands of pages of critical content into an easy-to-use interface
Visit Site
Stanford University pursues ground-breaking research in almost every field of human endeavor. Its 2,000 faculty members can found their own laboratory and pursue new directions in medical, scientific, engineering, and humanistic research. These experiments can include class-4 lasers, viruses, chemical, biochemical, and radiological hazards. Over $1B (yes, really) in annual research funding supports hundreds of research labs.
Stanford's Environmental Health and Safety department (EH&S) is the principal entity responsible for not only compliance with the law, but ensuring that the Stanford community is safe — an extremely challenging mission given the extent of Stanford's activities.
The Challenge
Despite conscious effort to avoid being viewed as an "enforcement" agency, EH&S is often viewed as an impediment between an individual and their chosen task. Unfortunately reinforcing this perception was their outdated site: it was disorganized, difficult to maintain and update, and not mobile friendly. The site hosts an incredibly large volume of content — everything from safety manuals, PDFs, and critical documentation — that was buried and hard to find. Thus the former online space for EH&S was often an additional barrier for those trying to conduct their work in a safe and compliant manner.
The business goals became the following:
Create a responsive web experience that solves problems for real users, and advances the goals of EH&S to realize a safe and healthy Stanford.
Revamp Information Architecture (IA) to make it simple to use, match users' expectations for how safety information is organized, and easy for people to find what they needed.
Shift the perception and language of safety away from "compliance" and toward something more progressive and attractive, to persuade unmotivated users to participate more fully.
Eliminate bottlenecks for users who are already motivated to take positive action.
Allow for analytical data to be taken from the site to determine the level of success, and be able to adjust the site as needed in response to the data.
The Solution
Because of the sheer variety and volume of audiences, types of content, and types of tasks needed, the solution required a deep understanding of both the structure of the content as well as how that content was accessed. This was in addition to getting several thousand pieces of content wrangled out of PDFs and migrated to the new site, which required a thorough content audit.
Strategy work consisted of persona development to learn about the various audiences, and the Stanford and Palantir teams worked together on card sorting exercises to determine the best information architecture.
The taxonomy was re-categorized to allow related content to surface easily; when a user went to a page about chemical safety, for example, they'd be shown related content under the right category, such as proper chemical disposal (under Services), a chemical storage form (Forms), and courses needed to handle that chemical (Training).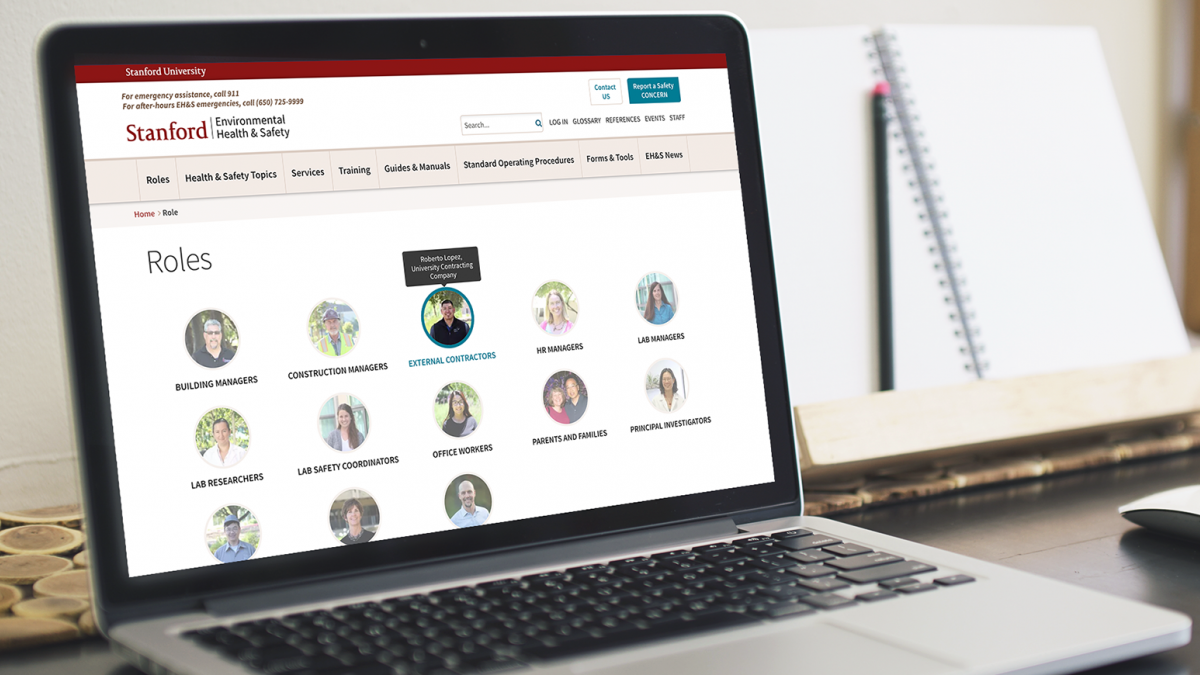 ​Users could self-select which role best suited them in order to view all the content related to their role.
In order to create the easiest user experience, we determined that the site should be broken down both by topic and by role. A series of icons was created to help delineate between the 20 different health and safety topics, and photography of real Stanford employees and students were used to demonstrate the 13 types of users determined via persona workshops. Quick links were provided to make it easy for users to do the most common tasks, and a faceted Solr search was implemented to help users locate forms, manuals, training documents, and standard operating procedures.
All of this was accomplished with a visual theme that worked within Stanford University's overarching brand standards and was designed to allow for clarity and simplicity.
The Results
Stanford strives for excellence in all programs, and that should extend to safety as well. While safety content may not be the most exciting reading, it is critical that it is found quickly and is clearly presented in order to keep safety a priority.
Through content strategy and a supporting architecture, we were able to meet the product owner's ultimate goal of "content on demand." As he stated, "what I want, when I want, where I want!" The new site allows EH&S to present an image of a professional, knowledgeable, and helpful service provider that is fundamental to the unique experience of being at Stanford.
Let's work together.
Have an exceptional idea? Let's talk and see how we can help.