Drupal 8 is Great for Easy Publishing
The #D8isGr8 blog series will focus on why we love Drupal 8 and how it provides solutions for our clients. This post in the series comes from Alex Brandt, Marketing Lead.
Oh Drupal 8, how do I love thee? Let me count the ways… As a content editor on a small team, I welcome every chance I get to publish something easier, quicker, and more effectively. My first experience publishing content in Drupal was in Drupal 7, and without having previous HTML experience, it was a time-consuming endeavor. Although there are many reasons why I love publishing content in Drupal 8, I'll narrow it down to my top three.
1.) WYSIWYG FTW!
This little bar is my best friend:

A quick WYSIWYG editor (CKEditor) is now standard in Drupal 8 core, which means there's no need to look up the HTML every time I want to include a link, stylize a heading, or insert an image. The amount of time I save when publishing is awesome, but it also prevents me from using sloppy code that could become an issue later down the line if we migrate content.
2.) Keeping Things Accessible with Alt Text
Drupal 8 now flags when you need alternative text (alt text), and it doesn't allow you to publish a post without providing these descriptions. We always strive to make our corner of the web equally accessible for all users, and this is a safeguard to make sure we continue doing so. You can read more about why alt text is important in our recent post on accessibility.
3.) Customization
Just like most institutions, our website is one of the most important marketing tools for our agency. Not only does it provide us with a place to share knowledge with our audience, it provides different ways for our audience to engage with us.
One of the easiest ways we are able to connect with our clients, partners, and community is by creating customizable call-to-action buttons to display in various places on our site. These buttons allow our site visitors to sign up for our newsletter, schedule a time to chat with us, register for a webinar, or any other action we hope they take. By having the ability to customize each button (opposed to only having a generic contact us button), we can make sure the call-to-action buttons fits the content where they are displayed. Drupal 8 makes these buttons easy to create (once we set up our desired fields).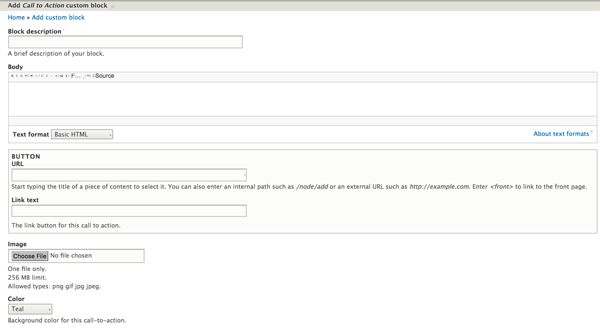 Easy Publishing in Drupal 8
All of these features in Drupal 8 allow me to share tailored content with our audience, without becoming bogged down by the technology. And because I know you were wondering, the time it took me to take this blog post from google doc to published? 3 minutes, 17 seconds.
Stay connected with the latest news on web strategy, design, and development.
Let's work together.
Have an exceptional idea? Let's talk and see how we can help.