Our Client
Gastro Health is a medical group specializing in the treatment of gastrointestinal disorders, nutrition, and digestive health. Their physicians are involved in clinical research and medical education, and they have office locations, endoscopy centers, and affiliations with premier hospitals.
The Situation 
Gastro Health is a specialty medical group that started in Florida and is rapidly building a national presence through partnerships. They needed a new digital platform that could seamlessly and rapidly integrate new practices as they grow.
The Solution
Gastro Health assembled a team: Martek, to coordinate their digital transformation; Palantir.net, to elevate the brand, design the user experience, and build a scalable design system; and Merge, to implement the platform in Sitecore*.
Establishing a Brand for Healthcare Shoppers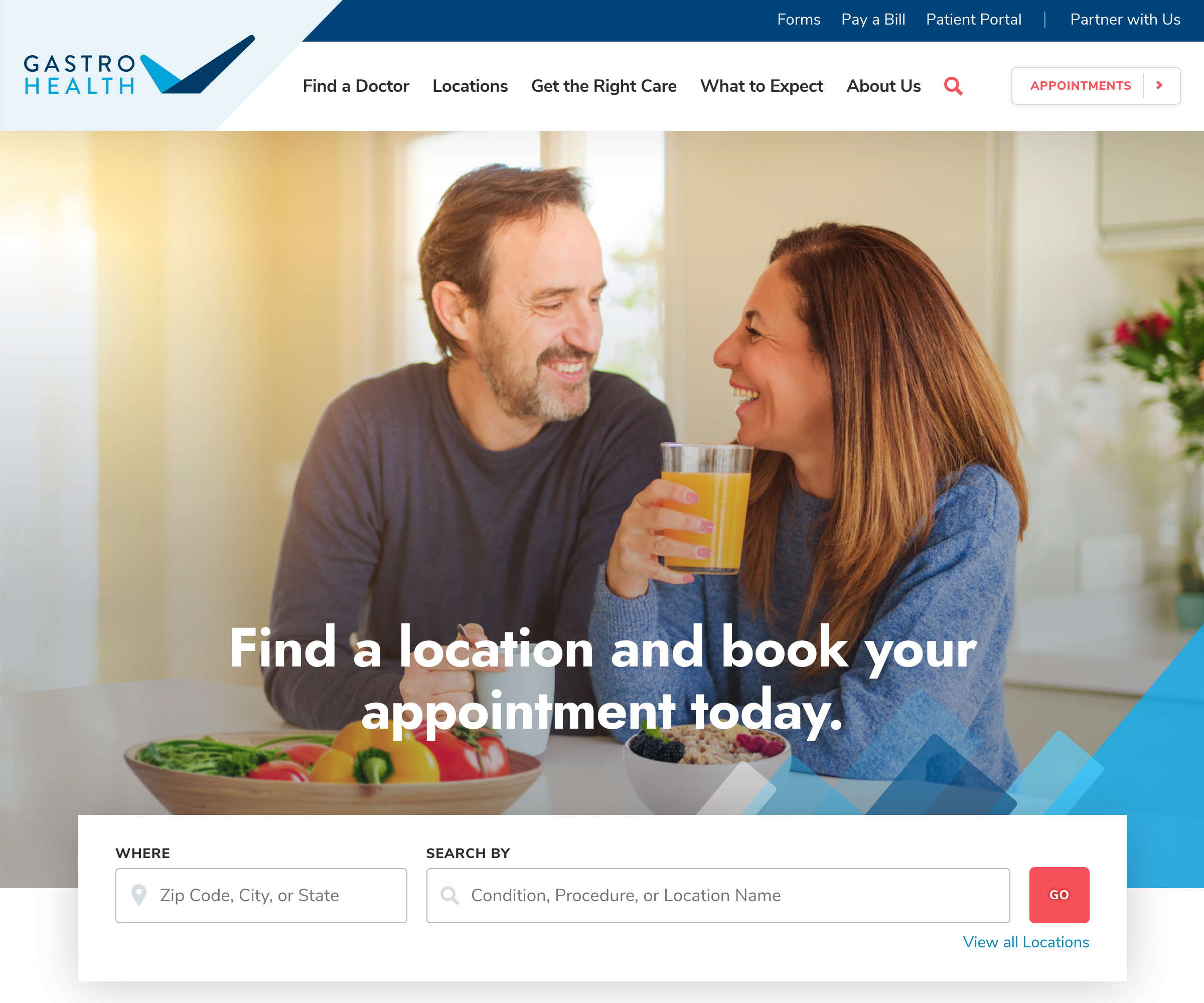 People are increasingly doing their own shopping for specialists rather than relying on referrals from their primary care doctor. A key part of Gastro Health's growth plan is to establish a strong brand that appeals to potential patients as well as to referring doctors. We extended the new Gastro Health logo and palette into a modern, clean, and fresh visual design that takes its cues from lifestyle brands rather than traditional healthcare.
Design for the Patient's Location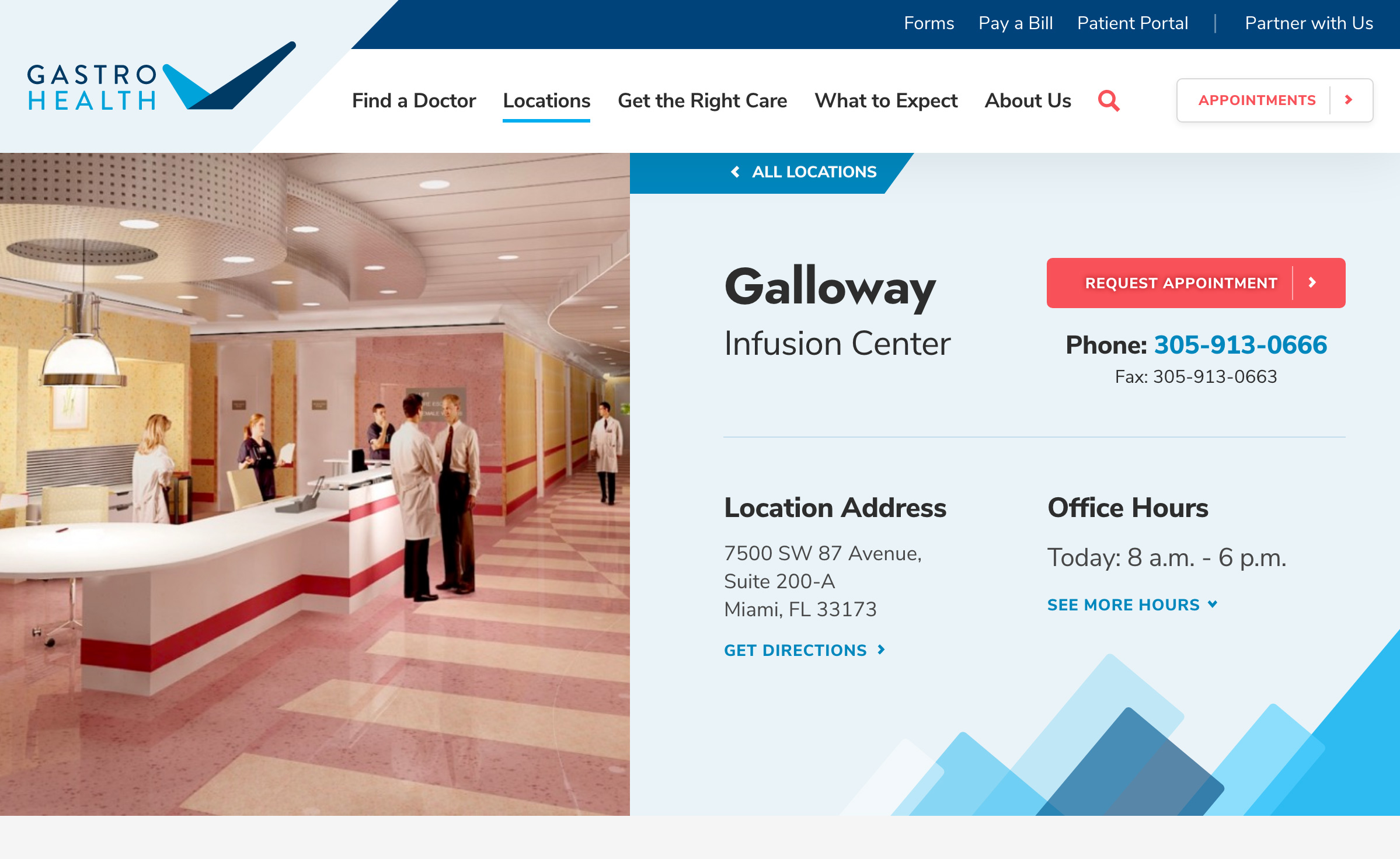 For a medical specialty with a national presence, the key need is to help visitors quickly and easily find information about what options are available in their area so that they can make an appointment. Our design process centered "find services near me" as the core engagement outcome of the site. 
In our initial research and strategy work, we uncovered a serious pain point: Patients often booked an appointment and showed up at the wrong location. For a medical specialty practice with multiple locations and hospital affiliations, this is a key problem to solve! We addressed it by:
Elevating "Having a procedure?" messaging on the location search page. This solution helps redirect the patient before they head to the wrong location.
Including the same messaging on the "Appointments" page in case a patient is looking to set up an appointment first.
We also reorganized the site's content to prioritize meeting patient needs over sharing news and information about Gastro Health. With the new design, we help patients answer questions like:
I have these symptoms - should I schedule an appointment?
Do you accept my insurance?
Do you offer the services/treatment I need?
I have a procedure scheduled - what do I need to do to get ready beforehand?
I have an appointment - where should I go? 
Scalable Design System
We used the new logo and color scheme to build out a robust design system: a set of elements, components, and page templates. For Gastro Health, a core need was a design system that could support a range of different data and system integrations used by their partners.
Different practices use different systems and processes for our key conversion: booking an appointment. Some practices enable visitors to book online, some use a form, and some simply require a phone call. We designed the "book an appointment" user flows to create a complete and elegant experience regardless of how the task could be completed. 
Similarly, different practices have different content in their doctor profiles. Our profile element is designed to look complete regardless of whether the information is minimal or more comprehensive.
Impact
Gastro Health has recently acquired new practices in Seattle and Alabama, with more to come. Investing in a scalable design system has already paid dividends by allowing the new partners to quickly onboard on to the new platform and begin reaping the benefits of Gastro Health's national brand.
Key Trends
The Gastro Health project is emblematic of two key trends in healthcare:
Increase in specialty practices. Specialists are increasingly building out large single-specialty practices, rather than joining health systems.
Ongoing trend in patient self-referrals. People are shopping for specialists and making their own choices rather than simply relying on a referral from their primary care physician. 
Let's work together.
Have an exceptional idea? Let's talk and see how we can help.