South Dakota State University
Designing a Modern Experience for Students
Visit Site
Highlights
A modern design on Drupal 8.
Design and development on Drupal 8
A modern design that preserves University branding
A content staging site that facilitated easy editing while in development
Our Client
South Dakota State University (SDState) is a public research university dedicated to developing responsible global leaders from South Dakota and beyond. Located in Brookings, SDState is the largest university in the state, with nearly 200 program offerings. All departments for the University are housed under one website, with over 200 content editors spread throughout campus.
Goals and Direction
With the large amount of content on their site, SDState realized their old content management system was no longer a good fit. The old CMS functioned as more of a page system than a content system, which meant their content was not interlinked or re-usable.
For example, if a link to an event or other page changed (like course catalogue pages for a new semester), editors had to go back and update that same link in every place that it appeared on their site. It was a hard task to keep up with, plus it resulted in a lot of outdated links. The SDState team excitedly selected Drupal because of its ability to interrelate and link content easily, and also because of the benefits associated with open source software like the omission of ongoing license fees or vendor lock-in.
Another primary goal for SDState was to refresh the site's design while still preserving University branding. The old site wasn't optimized for mobile devices, and the design itself was starting to look aged. One of the strengths of the old site was its ability to carry the brand identity throughout all of the pages, and they wanted to preserve this with the new design.
A Modern Design
So how did our designers create a fresh design while preserving the equity of SDState's brand? The idea was to create a clean site that upheld, but modernized, the existing brand, and kept a keen eye on following accessibility best practices. The design needed to capture the essence of SDState, it's tradition and the comfortable familiarity it provided to students who, for the first time in their lives, were moving away from home.
We maintained the brand equity by choosing web-friendly fonts that mimic, but enhance their existing brand fonts. Roboto Slab acted as a more modern, legible alternative to their existing slab serif and Fira Sans, with it's rounded, personality-filled forms added warmth and friendliness, acting as a counter to Roboto Slab. We also ensured that each page used their brand colors, and their main branding was consistent throughout the site. Though the design itself is very clean and open, by using large images that we found in SDState's expansive image repository, we were able to more effectively communicate the warmth, friendliness, and sense of campus community at SDState.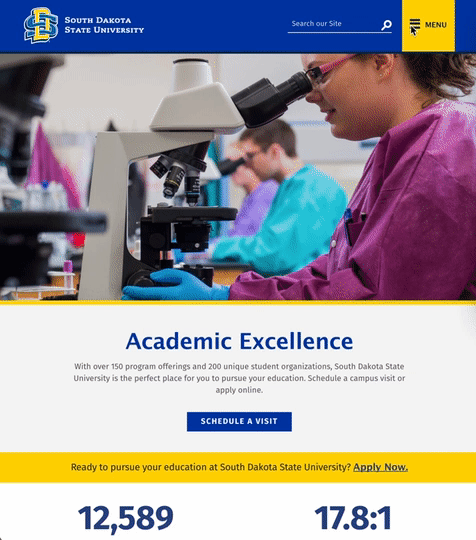 Add these design elements to the reorganized and user-tested Information Architecture, and we had a modernized solution.
D8FTW!
Drupal 8 was the best option for SDState. By selecting the most current version of Drupal, we created a strategic, sustainable roadmap for enhancements to the site with future expansion in mind. The new D8 functionality also provided better editorial tools, which empowered the large number of SDState editors to be more effective.
SDState needed to audit and edit their old content, so we set them up with an intermediary content staging site on Drupal 7. This allowed editors to update and prepare content for the new site while familiarizing themselves with Drupal. It also saved time by creating an opportunity for them to update their content in tandem with development of the new site on Drupal 8.
The migration to Drupal was a game changer for the SDState team. They could now assign items to someone else, flag content to be edited or removed, or sort by when something was last edited. It was a much more collaborative editing process.
The Upshot
Great web design doesn't always mean starting from scratch. With a handful of thoughtful updates, we were able to preserve the equity of SDState's brand through a modern design that displayed their new dynamic content beautifully and provided the University with a sustainable platform that will serve them well for years to come.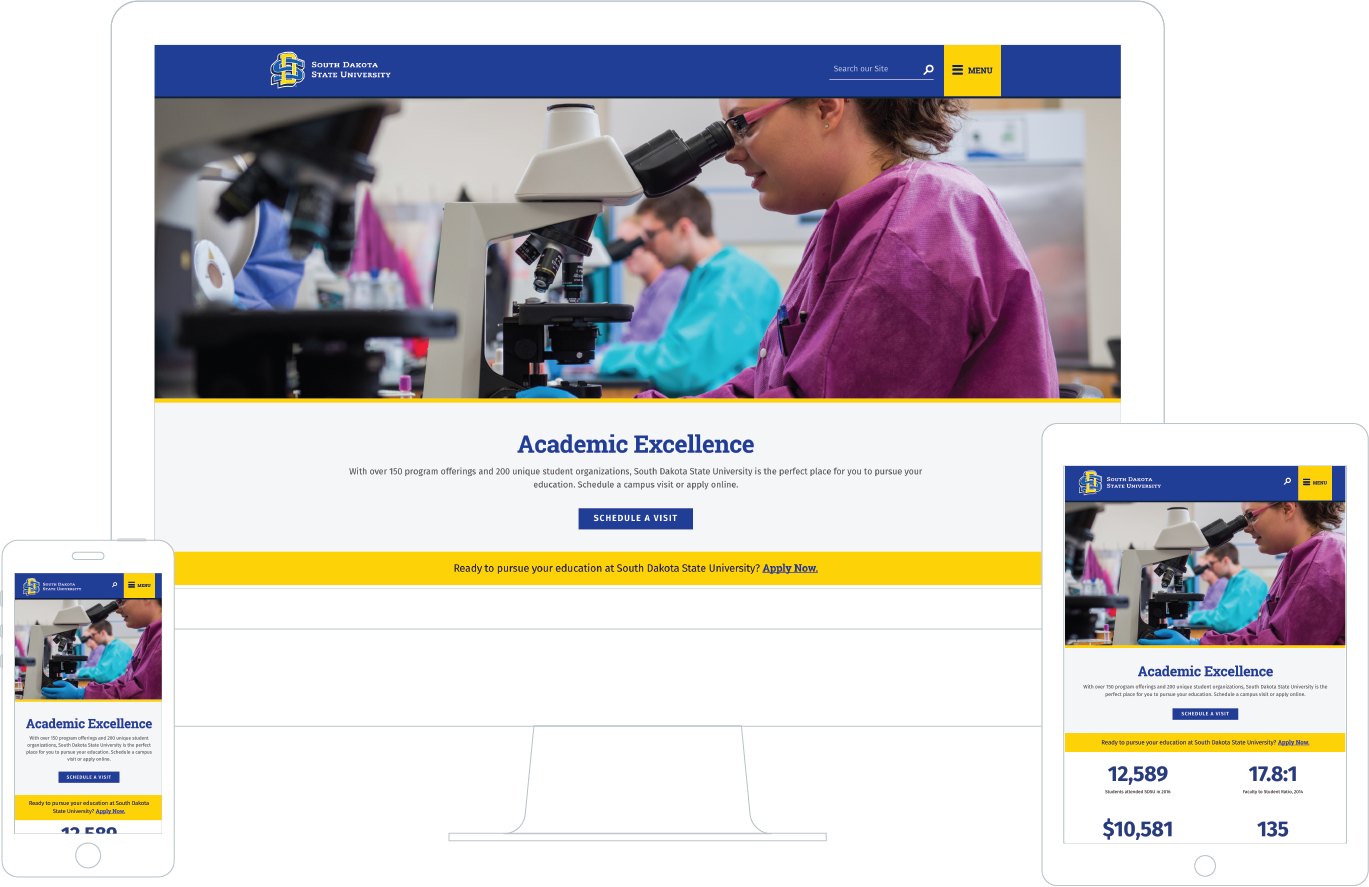 Let's work together.
Have an exceptional idea? Let's talk and see how we can help.