Charting the Future: The Practice of Proactive Roadmapping
How strategic planning enhances Drupal site maintenance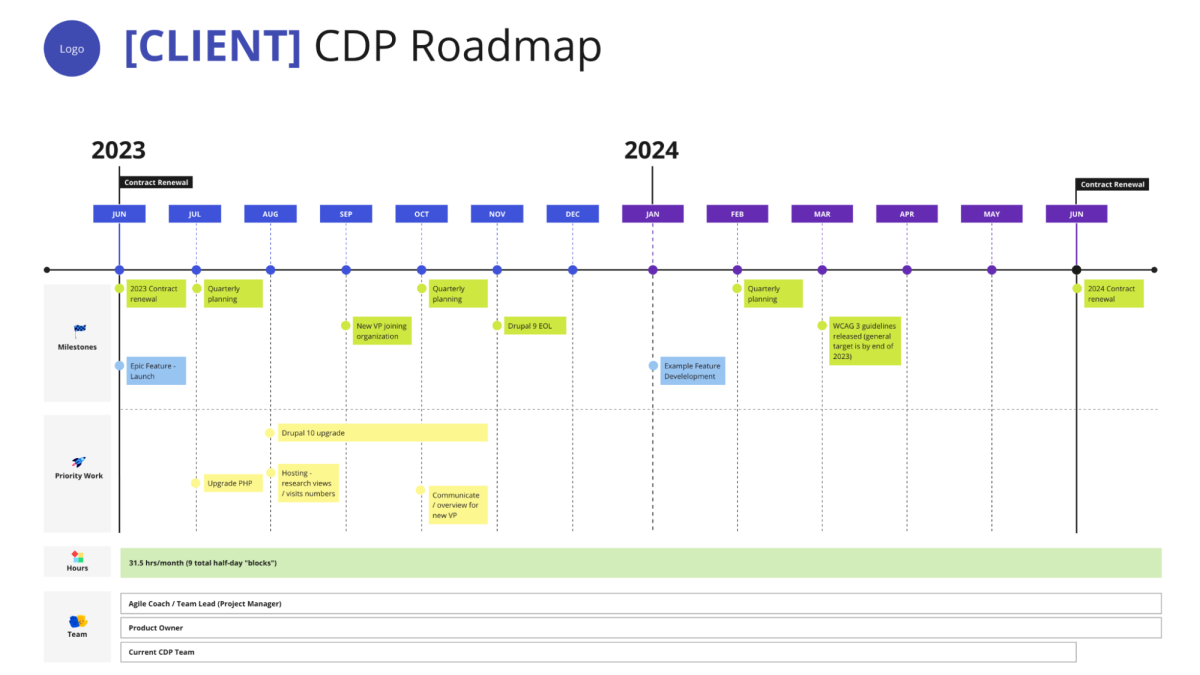 The world of Drupal site maintenance can be monotonous—think module upgrades—but it's often punctuated by unexpected twists and turns like security updates and bug fixes. As Drupal developers supporting client sites long-term, we can find ourselves in these two extreme environments of repetitive and reactive work.
Strategic road-mapping with clients can greatly improve this situation, transforming the traditional reactive model into a forward-thinking, proactive one. With Palantir's Drupal Continuous Delivery Portfolio (CDP), we wanted to create an environment where we could promote sustainable growth and enduring client relationships, perfect for carrying out proactive roadmapping together, as well as fostering team members' learning opportunities
Understanding strategic roadmapping for continuous delivery
Roadmapping in Drupal CDP is the process of identifying new business goals and needs, defining time-sensitive events (such as Drupal 9 end of life or a third-party vendor change), and planning out desired feature developments within a given timeframe. Our goal is to hold a roadmapping session with each of our clients on a quarterly basis, which allows our team to understand client needs, proactively plan work, identify learning opportunities for teammates, assess risks, and respond effectively to future challenges.
This may sound like common sense, but we received such a strong positive reaction that we realized it may not be common practice.
Here are a few benefits of roadmapping with our clients:
1. Enhancing client relationships
When clients see that their consultants are taking the time to understand their long-term goals and creating plans that align with those objectives, it builds trust and provides a space for conversations, which promotes the development of a long-term, mutually beneficial partnership. Plus, many of our clients are small teams trying to wear many hats. They appreciate the outside impetus to pull out of the day-to-day and focus on the health of their digital program.
2. Anticipating and mitigating risks
Navigating the lifecycle of live Drupal sites alongside client organizational goals and changes can be tricky. For example, a client might decide to make an update to their brand that will impact many areas of their site. Roadmapping the "knowns" and "known unknowns" helps us anticipate these risks and devise strategies to mitigate them before they become critical issues. Having proactive measures in place can reduce the need for urgent, reactive problem-solving that often leads to stress and increased costs.
3. Increasing efficiency and productivity
With a clear plan in place, team members can be allocated more effectively, enhancing productivity. It allows us to gather proper expertise in advance to achieve our goals, which results in a smooth, coordinated approach to delivering value. Roadmapping also contributes to Palantir's passion for growing talent by recognizing upcoming learning opportunities for team members. This is especially helpful within the Drupal CDP team, where we are aware of each other's learning goals through team chartering.
4. Fostering strategic growth
Roadmapping can play a big part in fostering strategic growth, both for clients and Palantir. We are constantly monitoring new features and innovations to help improve user experience, such as privacy legislation and accessibility requirements.  Discussing these with our clients and helping  align them with their business goals guides us to make informed decisions and plans. We often surprise some of our clients with our consultative approach. We come to them with ideas that challenge their status quo and have the potential to change the course of their digital program. Some of these clients have grown significantly in our portfolio after years of doing just the baseline. And we've been able to push the boundaries of our own portfolio work by experimenting with our braver clients. In the end, the whole portfolio wins.
Collaboration for the long-term
We all know that Drupal development can surprise us. Future roadmapping with clients is a great tool to help guide us on the long-term journey of maintenance and consulting. Roadmapping helps us develop stronger relationships, mitigate risks early, increase efficiency, and foster strategic growth. As we continue to expand Palantir's Drupal Continuous Delivery Portfolio, we are excited to navigate the path ahead as proactive partners with our clients.
Image by Carl Martens
Let's work together.
Have an exceptional idea? Let's talk and see how we can help.